Hong Kong's Trinity eyes small European luxe brands
Apr 11 - Hong Kong-based luxury menswear store operator Trinity Ltd is shopping around for more high-end European clothing brands to continue benefiting from China's insatiable appetite for luxury.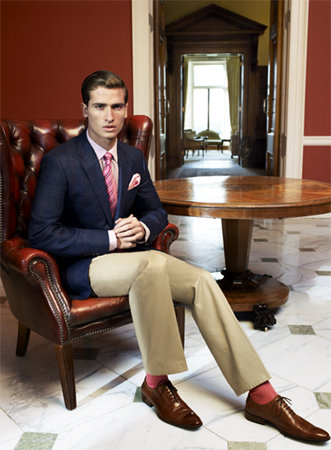 Kent & Curwen brand, owned by Trinity Ltd
Trinity, a sister company of consumer goods exporter and logistics consultant Li & Fung, in December bought Italian fashion house Cerruti for $70 million. It also owns the upscale British clothing brand Kent & Curwen.
It wants to expand beyond those brands and the long-term licenses it holds for Japan's D'Urban and Britain's Gieves & Hawkes brands. In January it raised $95 million specifically to make some acquisitions.
"It has to be high-ends menswear - we prefer apparel," Trinity Managing Director Sunny Wong told Reuters in an interview, referring to possible acquisition targets.
But U.S. brands are not on his shopping list.
"We tend to feel that European brands stand a greater chance of success in China than American brands."
Even though the Cerruti deal was a way to build Trinity's foothold in the world of men's fragrances, Wong said Trinity is not one of the bidders for French fashion house Jean-Paul Gaultier, known for its men's perfumes and risque fashions.
Last week, sources told Reuters that Japan's Shiseido had entered the bidding process for Jean-Paul Gaultier, joining forces with China's Fung Capital, which is controlled by the same family as is Li & Fung.
China is the fastest growing market for luxury in the world and has overtaken Japan as the second largest, fuelled by shoppers' taste for brands such as Louis Vuitton, part of LVMH, Hermes and Tiffany & Co.
Last month, Trinity reported 2010 revenues rose 22.3 percent to 2 billion Hong Kong dollars ($258.8 million).
Trinity operates -- under various brand names -- 409 retail stores in Greater China, plus another 42 retail stores elsewhere.
Trinity has been opening between 50 and 70 stores annually in recent years and Wong said that pace would hold steady for the foreseeable future.
But Trinity will not launch its own brand, Wong said.
"Luxury means heritage and it takes generations to build heritage," Wong said. "The Chinese customers want heritage brands -- they want the story, they want the history."
(Reporting by Phil Wahba; Editing by Phil Berlowitz)
© Thomson Reuters 2023 All rights reserved.