Implats says Zimbabwe government should honour agreements
By Nelson Banya

HARARE (Reuters) - Zimbabwe should honour investment agreements to attract fresh capital and retain investors who have continued to operate in the country, Impala Platinum Holdings Ltd (Implats) chief executive David Brown said on Thursday 15 October.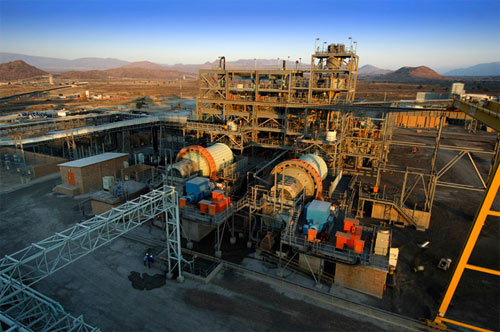 Implats Marula mine in South Africa - Photo: www.implats.co.za
The world's second largest platinum producer, Implats has the biggest platinum mining operation in Zimbabwe through its local unit Zimplats.
Brown said Zimplats had signed investment agreements with Zimbabwe, which the government had not yet fulfilled.
He did not say what the agreement was but Zimplats, which says it is exempted from paying tax on imported capital goods under a 2001 pact, has feuded with tax authorities demanding payment for imported equipment.
"We still have some issues that need resolution by the government, namely obligations under the agreements we signed with the Minister of Mines in 2001," Brown said at the official launch of its Ngezi expansion project, west of Harare.
"We have gone ahead with more investments in the country on the strong belief that the delays are only due to bureaucracy's slow progress. Conclusion of these agreements is important if Zimbabwe is to retain current investors and attract new capital."
Brown said Implats had invested more than $600 million in Zimplats since 2001.
In 2006 Zimplats agreed to release a third of its mining claims in exchange for empowerment credits as the Zimbabwe government pressed with a drive to transfer majority shareholding in mining companies to locals.
The government has spooked foreign investors with an indigenisation law that requires foreign-owned businesses, including mines and banks, to sell 51 percent of their holdings to blacks.
Brown said Zimplats was supportive of indigenisation and was, together with the country's mining chamber, holding consultations with the government on the issue.
The government is expected to introduce in parliament amendments to the mining laws seeking to ensure broader participation by Zimbabweans in the sector.
"We trust that the amendments will take into account the concerns of the investors while allowing for meaningful indigenous participation," said Brown.
Mining has become key to Zimbabwe's struggling economy after the collapse of commercial agriculture, which is largely blamed on the seizures of white-owned farms by President Robert Mugabe's previous administration.
A new unity government formed by Mugabe and Prime Minister Morgan Tsvangirai has given hope that some of the controversial laws that have kept investors away from the country would be reviewed.
Brown said platinum prices had firmed in the last quarter but sustained price recovery was dependent on a rebound in the global automotive sector.
Ngezi mine has a production capacity of 2 million tonnes of platinum ore annually and Brown said the mine could expand if the government created favourable conditions for investment.
© Thomson Reuters 2023 All rights reserved.