In remote Faroe Islands, wool becomes a fashion statement
TORSHAVN, Nov 5, 2007 (AFP) - It is only fitting that in the Faroe Islands, home to twice as many sheep as people and whose name means "Sheep Islands," wool is experiencing a renaissance.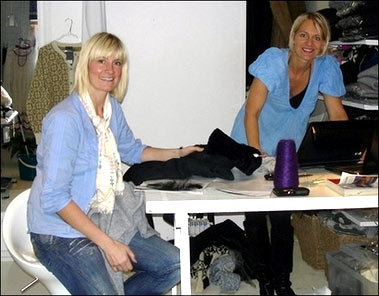 Knitting fashion designer Guoerun Ludvig (L) and sales representative Guoerun Rogvadottir, pose 03 October 2007, in their workshop in Torshavn Photo : Slim Allagui/AFP
In this remote North Atlantic archipelago located between Scotland, Norway and Iceland, knitting has always been a national hobby and fashion staple. Now young new designers hope to transform what was once a traditional handicraft into an art.
The history of Faroe Islands wool dates back to the 7th and 8th centuries, when sheep were brought by Irish monks who settled the isolated volcanic islands.
By 1,000 AD, when the Vikings had taken over the islands, wool had become the main resource. A few centuries later, the ram first appeared on the coat of arms of the Faroe Islands, now a Danish autonomous territory.
While fishing is today the main industry, wool still has its place secured in society.
With 70,000 sheep and just 48,000 people, the Faroese continue to knit because "it's the national pastime," says Solrun Gray, a local in her 60s.
"I go to a knitting club on my street two or three times a week to talk and have a good time," she says.
It only takes a quick glance around the capital Torshavn to confirm the local fascination for wool. One shop after the other sells fashionable clothing and accessories in wool, making shopping the town's biggest tourist attraction.
In the past, each hamlet and even family had its own knitting pattern, helping to identify their men lost at sea, according to historians.
Faroese wool is known for its natural lanolin content, making it water repellent. Its special mix of coarse and fine fibers also makes it ideal for insulating against both heat and cold.
Today, the islands' top wool designers include Guoerun Ludvig, Paulina av Steinum, Sirri, Borgny Patursson and Inga Maria Vang.
In their small boutique and workshop in Torshavn Gudrun&Gudrun, the darlings of the Faroes' fashion scene, sell traditional sweaters as well as tops, skirts, coats, dresses, shawls and even silky woollen undies.
Guoeren Ludvig designs the clothes and Guoerun Rogvadoettir is in charge of sales.
Their creations are both sophisticated and colourful, often playful, and range from chunky everyday clothes to slinky dress-up items. Prices range from average to expensive.
Their label has gone international, with their garments exported to Copenhagen, Tokyo, Milan, Paris, New York and Los Angeles.
"They are without a doubt the showcase label for the archipelago's clothing design, which remains a luxury niche," said Ari Johannessen, the head of the Faroe Islands' Agriculture Council.
The islands' woolly traditions did not go unnoticed by former US president Bill Clinton, who visited Torshavn in October. He bought two sweaters and a pair of scarves at Gudrun&Gudrun for his wife Hillary and daughter Chelsea.
To meet rising international demand for their designs, in particular in Japan, and to reduce production costs, Gudrun&Gudrun has recently opened production centres in Jordan.
"The problem is that even though we have an abundance of wool in the archipelago, it's very expensive to produce things locally at competitive prices since salaries are high and there is low unemployment," Johannessen said.
At just 1.4 percent, unemployment is virtually nonexistent in the Faroe Islands.
"We could have chosen to produce everything in China at a lower cost," Gudrun&Gudrun's Rogvadoettir said.
But "our ethics prevent us from doing that since the Chinese workers work non-stop, are paid pennies and intermediaries pocket most of the profits," she said.
The pair said they decided to hire knitters in Jordan to show their solidarity with the country's women and to help contribute what little they can to that country's development.
The Jordanian women are "paid almost as much" as the women in the Faroes, Rogvadoettir said, and "will work the same way, in groups, with the wool and the patterns" sent from the Faroe Islands.

By Slim Allagui
Copyright © 2023 AFP. All rights reserved. All information displayed in this section (dispatches, photographs, logos) are protected by intellectual property rights owned by Agence France-Presse. As a consequence you may not copy, reproduce, modify, transmit, publish, display or in any way commercially exploit any of the contents of this section without the prior written consent of Agence France-Presses.