India, Brazil on hold, luxury targets Middle East
(Reuters) - Luxury groups discouraged by thickets of red tape and taxes are putting on ice ambitions to expand into India and Brazil and focusing instead on the Middle East, their No.2 priority after fast-growing China.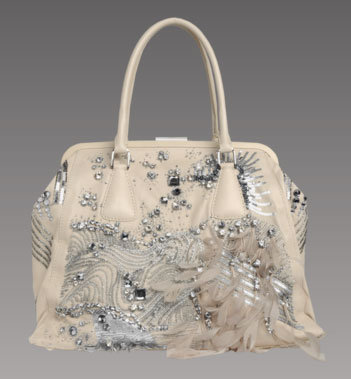 Valentino - SS 2010
Gulf countries represent a tiny pool of buyers compared to India and Brazil but they offer low tariffs, a friendly business environment, retail space and solid appetite for Western upmarket products, luxury executives say.
In contrast, they complain of a shortage of retail infrastructure in India, and other bottlenecks that make it easier for wealthy travellers to buy luxury goods while flying through Dubai.
And Brazilians often prefer buying luxury watches and handbags in Florida, Paris or London to avoid paying several times more at home due to the high customs duties.
French luxury lobby group Comite Colbert, whose 75 members generate about a quarter of world luxury sales, said luxury companies struggled to enter both countries.
"For the moment, we consider India to be a market on stand-by," said Comite Colbert Chief Executive Elisabeth Ponsolle des Portes.
Custom duties are often more than 100 percent on luxury products in India and Brazil, and sometimes as high as 300 percent. In India, tariffs can change depending on which region the product is sold.
With regards to Brazil, duties depend on the customs officer's interpretation of the rules, Ponsolle des Portes said. Therefore, luxury groups are not hurrying to develop their business in the country and the Comite Colbert plans to wait until 2012 to help groups develop their presence there.
"This country (Brazil) has an important potential," said Ponsolle des Portes. But "we are focused on the Middle East at present... Comite Colbert members have identified the Middle East as a top target."
She added that nearly all of the Comite Colbert's members had a growing presence in the Middle East, aside from wine and spirits makers "for obvious cultural reasons."
But in India, many luxury companies had a small presence, she said, with Chanel and Louis Vuitton, for example, operating mainly out of luxury hotels due to the shortage of retail space.
NO RUSH IN INDIA
Hermes, which opened a shop in New Delhi in 2008, sees India as a long-term project. "I don't see India as a fire that will take off like China did over the past 10 years. India will take much more time," Chief Executive Patrick Thomas told Reuters.
Swiss watchmaker Blancpain this spring said it was feeling slightly discouraged about entering Brazil and India.
"In India, we feel that if the state can do something to make our life more complicated, it will," Mark Hayek, CEO of luxury watchmaker Blancpain told Reuters this spring.
While in Brazil, Hayek said: "there is no guarantee our products will enter the country as tariffs and rules change all the time."
On the other hand in Dubai, there is no value-added tax and companies can do business relatively easily, executives say.
But analysts warn Dubai is getting flooded with luxury products, prompting distibutors and makers to expand their presence in neighbouring cities and countries.
Rivoli Group, one of the biggest importers of luxury products in the Middle East, said much retail infastructure was now being made available in Abu Dhabi.
MIDDLE EAST BECKONS
Louis Vuitton, Hermes, Valentino, Van Cleef & Arpels, and luxury face cream maker La Prairie, are among many luxury groups who regard the Middle East as their main focus after China.
"Definitely, the Middle East is our No.2 target after China," Valentino Chief Executive Stefano Sassi told the Reuters Global Luxury Summit earlier this month.
Valentino, which has shops in Abu Dhabi, Doha and Dubai, said it looking for new partners in the region.
The Middle Eastern luxury market is worth about 7 billion euros ($8.53 billion) in annual sales, which is about 4.5 percent of world sales, estimates London-based broker Bernstein.
In comparison, the broker calculates that India represents only 0.5 percent of global luxury sales and Brazil 0.7 percent.
For jeweller Van Cleef & Arpels, about one-fifth of total sales are made to clients from the Middle East.
The jeweller, which started operating in the Middle East five years ago, said it planned to open two shops in Kuwait this year, one in Qatar and another in Abu Dhabi.
Marie Girardot, Van Cleef head of Europe, Middle East and CIS, said every market was different, with for example Saudi Arabia more sensitive culturally than the United Arab Emirates.
Hermes, which is keen to expand in the Middle East, said it planned to open a store in Beirut in July and next year one in Kuwait and in Abu Dhabi. It makes only 2.5 percent of its sales in the region.
Bernstein calculated in a recent note that Abu Dhabi, Dubai, Manama in Bahrain and Doha in Qatar had developed a higher luxury retail point-of-sale density than Seoul and Tokyo.
© Thomson Reuters 2023 All rights reserved.