India's Future Group to make toothpaste and detergents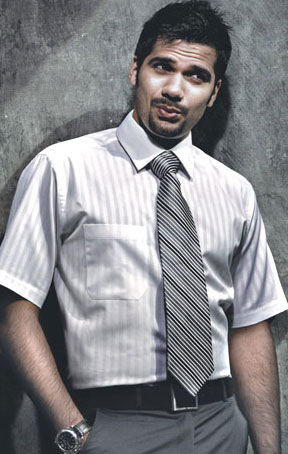 Future Group - John Miller
MUMBAI, Nov 20 (Reuters) - India's Future Group, which runs leading listed retailer Pantaloon Retail , is planning to manufacture consumer products like toothpaste, detergents and soap, its chief executive said on Thursday.
The group, which already has tie-ups with manufacturers such as Cargill [CARG.UL], will take on consumer goods market leader Hindustan Unilever Ltd , Procter & Gamble Hygiene & Healthcare Ltd and ITC Ltd .
"We are making a new strategy of developing consumer brands," Chief Executive Kishore Biyani told reporters at a news conference, adding he hopes to achieve revenues of 100 billion rupees ($2 billion) from the consumer brands by 2012.
Pantaloon Retail, the group's flagship, runs the Big Bazaar hypermarket chain. Its apparel brands include John Miller, Scullers and Indigo Nation.
In the food segment, it has brands such as Tasty Treat and Fresh 'n Pure, and it sells electronics under the Sensei brand.
India's retail sector, forecast to double from $350 million by 2015, has attracted the world's largest retailer Wal-Mart and global No. 3 Tesco to India in joint ventures with Bharti Enterprises and the Tata Group respectively.
But some retailers have been seeing sluggish demand caused by higher borrowing costs and consumers concerned about their wallets in a slowing economy. This has also forced mall developers to put their projects on hold.
"We are seeing growth," Biyani said. "There are certain segments which have seen a decline while others such as electronics and food are still growing."
He said commercial rents had fallen 25-50 percent from late 2007 peaks, relieving pressure on retailers.
"People will go to malls. They don't have anywhere else to hang out. Malls are the new temples of India," Biyani said.
JPMorgan India said in a recent note despite tight credit sales in October, which included major religious holidays when shops usually report brisk activity, indicated consumer spending was satisfactory.
Categories that saw weakness included furniture and watches, while sales in apparel and jewellery were encouraging, it said.
"Although it is difficult to gauge consumer sentiment accurately, we believe sales for December quarter should be satisfactory if interest rates and inflation trends continue to show improvement from current levels," it said.
Biyani said the group is looking at partnerships to extend its distribution format and may launch into sportswear, lingerie and cosmetic products.
The group also interests in real estate, financial services and logistics. ($1=50 rupees) (Reporting by Janaki Krishnan, Editing by Ranjit Gangadharan)
© Thomson Reuters 2023 All rights reserved.