India's gold rush with a difference
NEW DELHI, Feb 22, 2009 (AFP) - India's imports of gold have collapsed as people rush to sell their jewellery and coins to take advantage of soaring world prices for the precious metal.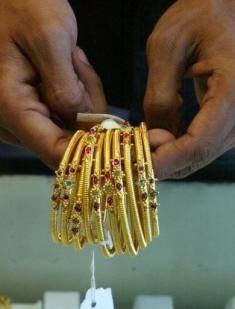 Photo : AFP
India, long famed as the world's largest gold consumer, normally imports 90 percent of its gold needs.
But in January, even with the wedding season -- a time of lavish gold gift-giving -- in full swing, it imported just 1.8 tonnes, down from 14 tonnes a year earlier, the Bombay Bullion Association said.
So far this month, there have been no imports, association president Suresh Hundia told AFP.
This has come on top of a 14 percent drop last year in gold imports to 660 tonnes, down from usual annual import levels of 700 to 800 tonnes.
"We're seeing all kinds of people -- middle class, lower class people, old people -- selling their old gold to take advantage of higher prices," said Kapil Kumar Chokshi, a partner at Mumbai's Chokshi Arvind Jewellers.
"There are probably several hundred people who line up outside the store a day wanting to sell," he added.
Dealers say this influx of scrap gold is a key factor behind the drop in imports along with high prices which are dampening demand.
"We're meeting demand from local supply," said Kishore Narne, head of commodities at Anand Rathi Commodities.
Gold is climbing strongly on world markets -- in London the spot price last week soared as high as 999.10 dollars an ounce, the highest since March 2008 as investors sought a safe haven amid escalating fears about the global economy.
But in India, the local currency's weakness against the dollar has driven the Indian gold price to all-time peaks in rupee terms.
"We're seeing old broken bangles, coins... People are clearing out the gold items they don't want. It's different from the rest of the world where people are buying -- here people want to sell their gold," Chokshi said.
The country of 1.1 billion people is believed to have one of the world's biggest private gold hoards estimated at up to 15,000 tonnes.
Indian spot gold prices surged to a record 15,790 rupees (317.70 dollars per 10 grams this week, up 1,600 rupees so far this month.
Many Indians are hoping to buy back gold once the cost comes down, although traders say they may have a long wait.
"People who are selling their jewellery expect a correction in the price -- they're completely disconnected from what's happening in the rest of the world," said Devender Kumar, a New Delhi jewellery merchant.
"I don't see prices coming down," he said. "I see them going higher."
Indians are still buying gold for marriages -- they believe it is auspicious to give gold for weddings and other religious events. But consumers are getting less for their money because of the high cost, said Kumar.
"They're still coming in with their budgets of 150,000 rupees or 200,000 rupees but that buys them less gold. They're not increasing their budgets."
Kumar said at his store, the volume of gold sold was down by 25 to 30 percent.
Those people who just buy gold as jewellery, rather than for a special occasion, are shying away from purchases, waiting for prices to fall, he added.
Some wholesalers report gold inventories are starting to pile up.
Still, in the investor category, Indians stung by steep share market falls, are snapping up paper gold, or exchange-traded funds (ETFs), seeing them as a safer option.
"There's no other asset class on which people are so bullish right now," said an official of Benchmark Mutual Fund.
"The people who want physical gold are those who want it for a special reason like marriage or other religious purposes, but people who want to take advantage of the pricing get into exchange-traded funds," he said.
Globally, gold purchases are being driven by worries the financial crisis could lead to spiralling inflation long-term, because of the gigantic sums being spent by governments on rescue packages, analysts say.
Gold is seen as the ultimate safeguard of value -- able to be used as money when money loses its worth.
"Looking at the world economic scenario and with equity markets underperforming, as an investor you don't see any other investment" category to choose, said Narne at Anand Rathi Commodities.

by Penny MacRae
Copyright © 2023 AFP. All rights reserved. All information displayed in this section (dispatches, photographs, logos) are protected by intellectual property rights owned by Agence France-Presse. As a consequence you may not copy, reproduce, modify, transmit, publish, display or in any way commercially exploit any of the contents of this section without the prior written consent of Agence France-Presses.