Indian gems and jewellery market forecast to 2013
India possesses the world's most competitive gems and jewellery market due to its low cost of production and availability of skilled labour. According to Research and Markets' new report, highly skilled and low cost manpower, along with strong government support in the form of incentives and establishment of SEZs, have been the major drivers for the Indian gems and jewellery market. Presently, although, Indian market is highly fragmented, it is rapidly transforming into an organised sector.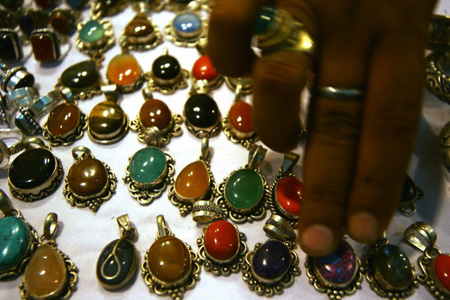 Indian man shows gems ornaments during Rajasthan festival
Currently, the industry is growing at a tremendous rate on the back of growing demand and increasing consumer preference. With various government efforts and incentives coupled with private sector initiatives, Indian gems and jewellery sector is expected to grow at a CAGR (Compound annual growth rate) of around 13% during 2011 - 2013. At present, Indian gems and jewellery market is dominated by the unorganised sector; however, the trend is set to change in near future due to the growing acceptance of branded jewellery market. As per our research report, with its consumption pegged at nearly 24% in 2008, India remains the world's largest gold consumer and this share is expected to grow further.
Copyright © 2022 FashionNetwork.com All rights reserved.