Investors await Simon's General Growth bid
By Ilaina Jonas - Analysis
NEW YORK (Reuters) - What will Simon say?
Now that General Growth Properties Inc (GGP.N) has filed a plan to emerge from bankruptcy as a stand-alone company, investors expect a rival plan to emerge, with Simon Property Group Inc (SPG.N) the most likely suitor.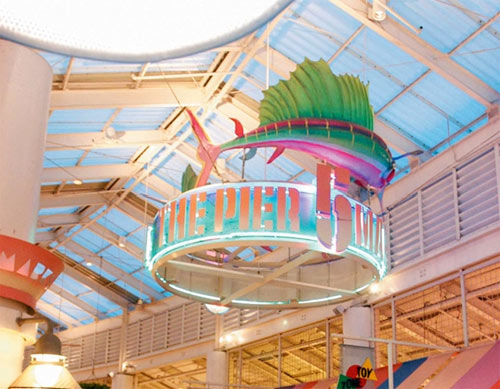 Bayside Marketplace in Miami, Florida - A General Growth Properties Inc mall - Photo: www.baysidemarketplace.com
"This is the beginning of the end," said Scott Moskol, who specializes in bankruptcy, corporate and finance law as a partner at Burns & Levinson.
The detailed plan sets a schedule under which General Growth will consider offers to either help bankroll its emergence as a stand-alone company, or buy the company in its entirety. Those offers must top the plan General Growth filed late on Wednesday 31 March and Simon is facing pressure to make a sweetened offer sooner rather than later.
"Simon should be highly incentivized to submit its improved proposal as soon as possible in order to allow General Growth to negotiate an acceptable agreement and decide to move forward with Simon's bid before the hearing on the 29th," a source familiar with situation said.
If an agreement is reached, General Growth could then present to the court a Simon offer as the bid to top instead of the one filed on Wednesday 31 March. That detailed plan calls for Brookfield Asset Management Inc (BAMa.TO), Fairholme Capital Management and William Ackman's Pershing Square Capital to invest $6.55 billion to bankroll General Growth's exit from bankruptcy.
As part of that plan, Brookfield would be granted 60 million warrants and Fairholme Capital and Pershing would together be granted another 60 million in warrants. A hearing on those warrants is scheduled for April 29. Once the judge approves them, the cost of a competing offer would skyrocket and push away potential buyers and investors.
The source also said it would behoove Simon to submit a plan well before a company-set April 19 deadline for interested parties to make themselves known.
A spokesman for Simon declined to comment.
General Growth shares closed at $15.95 on Thursday 1 April, still above the $15 value set in the reorganization plan filed by the company late on Wednesday 31 March.
In February, Simon offered to buy General Growth for $9 per share, an offer that was rebuffed as too low.
Even with the looming deadline, it will probably be a few days before any counter offer might come. General Growth's stand-alone proposal runs about 550 pages and any other potential source of capital or buyer would need to know what it is up against, said John Mallin, McCarter & English group leader for real estate construction and environmental practice.
The Equity Committee also is studying the proposal and is moving to get permission to hire a financial adviser to help it better understand any proposal for the company's future, sources familiar with the matter said.
But Simon is not the only party that could propose a better offer. Mall owners with fewer U.S. holdings could step up and other sources of capital could bid to replace Fairholme or Ackman in a stand-alone deal.
A group of investors, including Elliott Management Corp and Paulson & Co, are mulling an offer to help fund General Growth's exit from bankruptcy. Spokesmen for Elliott and Paulson declined to comment.
"Other parties will come to the table with better equity offers, or Simon will come across with a bid that is definitively or demonstratively better ... or someone else," said a person close to the bankruptcy procedures.
Simon has been weighing whether to sweeten its offer, people close to the deal have said. It has been conducting due diligence since March 3 and has said all it needed was 30 days to formulate a bid.
It also has been lining up a $6 billion credit line. Simon itself has access to about $7 billion in cash.
Yet, David Simon, Simon chairman and chief executive, has repeatedly said he would not pay a price that put his own company's finances at risk.
"I think Simon is willing to walk away. I don't think Simon will bet the balance sheet," said Sandler O'Neill and Partners analyst Alex Goldfarb.
Still, at stake are malls that are among the best performing in the United States. And investors like malls because they have long leases that generate a stable cash flow. Additionally, they are difficult to build in dense areas.
General Growth owns or has interest in more than 200 malls, including Fashion Show in Las Vegas, Ala Moana Center in Hawaii and Faneuil Hall Marketplace in Boston.
On Thursday 1 April, the International Council of Shopping Centers said its March 2010 composite U.S. Shopping Center Executive Opinion Survey Business Barometer crossed the line into optimism for the first time in 32 months.
"Simon will come back with a counter bid," Goldfarb added.
(Reporting by Ilaina Jonas; editing by Andre Grenon)
© Thomson Reuters 2023 All rights reserved.