Iran women splurge on makeup despite Islamic restrictions
TEHRAN, June 1, 2010 (AFP) - Banned after the 1979 Islamic revolution, cosmetics like lipstick and nail polish have flooded Iran so much in recent years that it is now the Middle East's second largest beauty products market.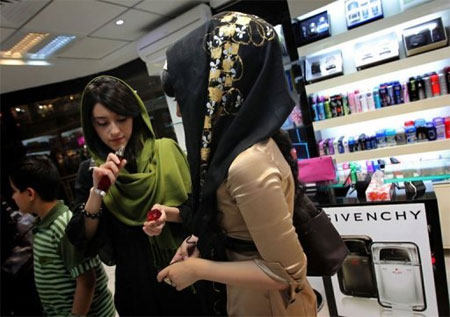 Photo: AFP
Following the revolution, the morality police patrolled the streets, fining or even arresting women who flaunted the strict rules until they were eased after the 1980-1988 Iran-Iraq war.
And most women were quick to catch on after a decision to allow imports in the mid-1990s with many taking to the streets all dolled-up, especially chic young urbanites.
Iranians spend about two billion dollars a year on cosmetics and the country of 74 million accounts for 29 percent of the Middle East market, which is dominated by Saudi Arabia, according to a recent survey.
Most beauty products are now imported or smuggled into Iran, as the country produces little of its own makeup but has a vast, porous coastline just across the water from modern Gulf city states like Dubai.
Almost all popular international brands like Yves Saint Laurent, Guerlain, L'Oreal and Bourjois are available at trendy uptown malls and stores in cities and large towns.
"Most specialists estimate that about 700 to 750 million dollars worth of products are imported to Iran illegally," said Abbas Najafi, the head of Iran's counter-trafficking bureau.
Vista Bavar, who promotes the recently launched European brand Caprice in Iran, was of the same opinion, stressing that "many products are smuggled into Iran."
"The health ministry is very precise about its criteria, which is very good as consumers can be sure about the quality when there is an official seal of approval," Bavar said.
"But 50-percent duty fees and red tape work against legal imports," the entrepreneur added.
People involved in the beauty business admit that smuggled goods tend to be of poor quality.
"Over the past years the market has been flooded with low-quality Chinese products which do not meet the required standards," said a major importer of cosmetics who asked not to be named.
But "Chinese products account for about 30 percent of illegal imports and they have their own market in provincial areas and among people with lower income," he added.
According to a survey conducted by TMBA, a private economic research institute, about 14 million urban Iranian women aged between 15 and 45 spend seven dollars on average per month on cosmetics.
With the minimum wage in Iran set at 300 dollars and the average monthly income between 600 and 700 dollars, that is a fair amount.
TMBA said Iranians splurge on cosmetics probably because most of the population is young and urban: half the population is below 30 years old, and 65 percent is urban.
Since 1979, women have had to observe the Islamic dress code, mandating that hair and body be modestly covered in public.
To abide by the code, outside the home most urban women wear a headscarf, and a loose coat over their regular clothes.
Women have also constantly challenged the dress code by sporting shorter, tighter Islamic overcoats and flashing locks of dyed hair under loosely-worn scarves, drawing condemnation and occasional crackdowns by the hardliners in power.
Women in government jobs still can not wear makeup at work.
"Because of the veil (dress code), young Iranians pay a lot of attention to their faces," which together with hands are the only body parts visible in public, said Mina, who sells cosmetics in the Iranian capital.
"Some girls spend over an hour in front of a mirror to get ready. If the fashion in Europe is to appear natural, in Iran the youth prefer to wear makeup," she said.by Siavosh Ghazi
Copyright © 2023 AFP. All rights reserved. All information displayed in this section (dispatches, photographs, logos) are protected by intellectual property rights owned by Agence France-Presse. As a consequence you may not copy, reproduce, modify, transmit, publish, display or in any way commercially exploit any of the contents of this section without the prior written consent of Agence France-Presses.