Italian jewelers pin recovery hopes on Middle East
By Svetlana Kovalyova
AREZZO, Italy (Reuters) - Italian makers of mass-market and mid-range jewelry hope to see a boost in demand from resource-rich Middle Eastern countries whose economies could see a quicker recovery than others, jewelers said.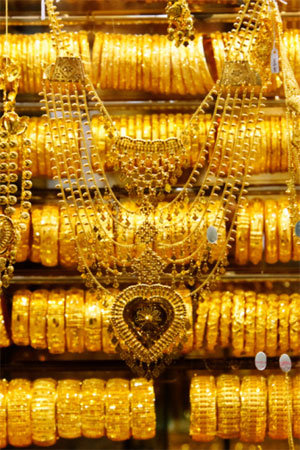 Gold jewellery on sale in Dubai
"The crisis has hit all export markets, but maybe it is less felt in the Middle East," Laura Falcinelli, designer at Falcinelli Italy jewelers, told Reuters at a trade fair OroArezzo that showcases Italian mass-market jewelry.
"We very much hope that Arab countries will give a boost to our (sector) sales," said Falcinelli, who is also in charge of marketing and strategy at her family-run company which makes chunky and colorful 'fashion jewellery' with price tags from 1,000 euros ($1,370) to 4,000 euros.
Italy's jewelry sector, the industry's biggest exporter and a design trend-setter, has seen its market share eroded since the early part of this decade. Mass-market jewelers have suffered the heaviest blow as lower-cost rivals from China, India and Turkey advanced.
Italian jewelers said they expected another gloomy year in 2009 after exports sales dropped 8 percent in value last year as the global economic crisis unfolded.
However, Italian jewelry exports to the United Arab Emirates, a gateway to the Middle East markets, have soared in the past couple of years. In 2008, the UAE replaced the United States as the biggest by-value market for Italian jewelry.
Sales to the United States, one the world's biggest jewelry markets, plunged 31 percent in value last year, OroArezzo has said.
Graziella Group, a leading Italian jewelry maker with an annual output of 2.5-3.0 tons of gold jewelry, said it is designing bigger items, especially for clients in the Middle East.
"The size and dimension of the jewels are significant and in line with the aesthetics preferred in Arabic countries, while elsewhere Craziella jewels can be smaller," Grazilla said in its company profile, which defines its style as modern Baroque.
Huge chains and other large and brightly colored items of jewelry were abundant on display at the OroArezzo fair.
Falcinelli said jewelers were also hoping to lure back crisis-hit but glamour-loving customers from Russia and eastern Europe.
(editing by John Stonestreet)
© Thomson Reuters 2023 All rights reserved.