Italy's Ferragamo prices IPO at 9 euros/shr
June 23 - Italian luxury leather goods maker Salvatore Ferragamo SpA priced its Milan initial public offering on Thursday at 9 euros a share, the company said in a statement.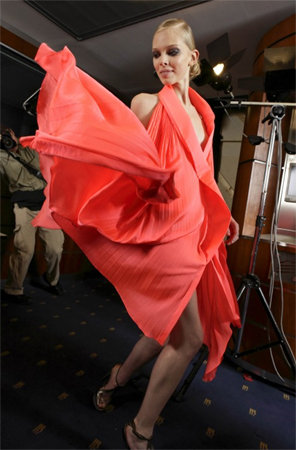 From Ferragamo's S/S '09 collection
Ferragamo, the family-run maker of shoes and bags, had planned to sell up to 25 percent of its shares including the exercise of a greenshoe option.
Ferragamo did not say how many shares were sold, but they said the total demand for the initial public offering was more than 3.6 times the amount of shares on offer.
The shares will begin trading on the Milan bourse on Wednesday.
The Florence company is defying a tough European market for new listings to become Milan's first completed flotation this year.
More than 20 IPOs have been pulled in Europe in 2011, with poor post-launch performance from those who have managed to brave wary markets. Jaded investors have been reluctant to take part in new offerings.
"There are two hot sectors at the moment: Internet companies and luxury consumer goods," said one banker.
Italian fashion house Prada SpA raised $2.1 billion from a Hong Kong listing last week.
Sources said investors had been told they would need to put in offers at 9 euros or more to have a chance of receiving shares.
The company had set a price range of 8 euros to 10.50 euros a share for the offering. They had aimed to raise about about 400 million euros ($566.1 million). That would value the company at up to 1.77 billion euros.
That range had put Ferragamo on a multiple of 16.4 to 21.3 times current-year forecast earnings. At the bottom of the range, it came at a discount to luxury peers such as LVMH Moet Hennessy Louis Vuitton, Burberry Group Plc and Tod's that trade at an average of 21 times.
The shares being sold are part of the Ferragamo family holding company's 56.24 percent stake.
Ferragamo first considered a listing in 2008 and returned to profit last year. Analysts expect revenue to grow at an average 13.5 percent to 1.14 billion euros by 2013, above European peers.
The listing is being run by Mediobanca, JPMorgan Chase & Co, Nomura Holdings Inc and Intesa Sanpaolo unit Banca IMI.

(Reporting by Kylie MacLellan in London and Stephen Jewkes, Antonella Ciancio, Ian Simpson and Valentina Za in Milan; Editing by Carol Bishopric)
© Thomson Reuters 2021 All rights reserved.