Japan cosmetic firms see hope in $1,000 face creams
By Yumiko Nishitani - Analysis
TOKYO (Reuters) - Japanese main cosmetics firms' bet that their women customers will pay top dollar for anti-aging creams have paid off and now all three may shift strategies to focus on recession-proof luxury items.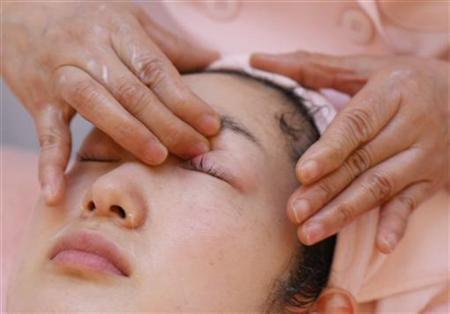 Shiseido Co Ltd, Kao Corp and Kose Corp, Japan's three biggest cosmetics firms, each launched a new 120,000 yen ($1,316) face cream since August 2008 despite the country's economic slump, with enough success for them to upgrade their bullish views on demand for high-end products.
All three are now reviewing their strategies to focus more on luxury items instead of the mid-priced segment, the traditional center of demand.
"It will be crucial for them to offer appealing, value-added products for those women in their 40s and older, who make up a big part of Japan's population and have the money to spend," said Katsuro Hirozumi, an analyst at Daiwa Securities SMBC.
"High-end products in Japan could also serve for wealthy Chinese women, if cosmetics companies can find a way to promote the use of beauty care products among people who do not have a habit of using such products," he said.
Each of the firms says their cream has topped targeted sales, although they do not unveil exact amounts. The rival creams are sold in 40 to 50 grams sizes and target anti-aging effects.
Prices of items priced 5,000 yen or higher account for roughly 20 percent of total Japanese cosmetics business sales at Shiseido and nearly 40 percent at Kose.
Nomura Securities analyst Kyoichiro Shigemura says the demand from Japanese women in their 40s is polarizing into high and low-price segments and a strategy to introduce higher value, high-price items was especially important.
"Kao's flagship brand Sofina is doing poorly because its products are in the mid-price segment. It will be important for Kao to capitalize on Kanebo," he said. In 2006, Kao bought Kanebo, which is focused more on the high-end market.
Shigemura has a bullish rating on Kao, he said, citing the strength of its core toiletry product business for helping counter the poor performance of its cosmetics business.
He is neutral on Shiseido's performance in the next 12 months but says its recent steps to strengthen its high-price segment business, should help the company over the longer run.
Shares of Shiseido have outperformed Kao and Kose since the start of the year, with Shiseido gaining 2 percent, Kao losing 20 percent and Kose falling 15 percent. The Nikkei stock average has edged up 20 percent.
Kao, which takes orders for its made-to-order Kanebo Twany Cellrhythm cream in summer for delivery in November every year, said it logged the same size of sales this year on a renewed Cellrhythm cream as last year, despite the financial crisis.
"We are surprised by the strong sales of the cream, as well as our other items priced over 5,000 yen," Kao president Motoki Ozaki said, adding Kao was now reviewing its business model.
OF A CERTAIN AGE
The recession-proof buying power lies with women in their 40s and older.
"Unlike in Europe and the United States, it's not a certain class of people who are buying such luxury products. It's ordinary women in their 40s and older," said Tomoyuki Yamazumi, a researcher at think tank Fuji Keizai.
"These generations acquired a taste and eye for quality beauty-care during the economic bubble. They now have more money to spend (due to Japan's seniority-based salary system), and even if they have to cut spending, these smart shoppers will spend less on other items to buy a few of the best cosmetics products."
Shiseido said a rise in the number of women earning over 10 million yen a year and women with a household income of over 20 million yen led the industry-wide sales of cosmetics products priced over 20,000 yen to grow 24 percent between 2004 and 2007.
Analysts said the industry's demand structure would likely shift in favor of high-price items, due to a demographic change and a likely lack of major income growth.
With their high-end products, these firms could also compete better with such global brands as Beiersdorf AG's La Prairie and Procter & Gamble Co's SK-II, they said.
Among foreign rivals, La Prairie brought an even pricier Cellular Creme Platinum facial cream to Japan in April, reaching the company's half-year sales target of 300 units for the product in just two weeks, according to the company.
Consumers, however, are not buying everything.
"Consumers have money but are increasingly selective in spending because of economic uncertainties. ...they seem to have become more conscious about what part of themselves they want to invest in," said Hiroshi Kanda, executive vice president at Kao.
Fuji Keizai forecast industry sales of high-price cosmetics products at 598 billion yen next year from an estimated 594 billion yen this year, with its share of the shrinking overall cosmetics market rising to 27 percent.
($1=91.18 Yen)
(Editing by Valerie Lee)
© Thomson Reuters 2023 All rights reserved.