Jeans flood US market but are they a good fit?
By Alexandria Sage - Analysis
SAN FRANCISCO (Reuters) - Just one glance at store windows at any U.S. mall might lead you to think that jeans -- classic, distressed and everything in between -- are the salvation the apparel industry has been waiting for.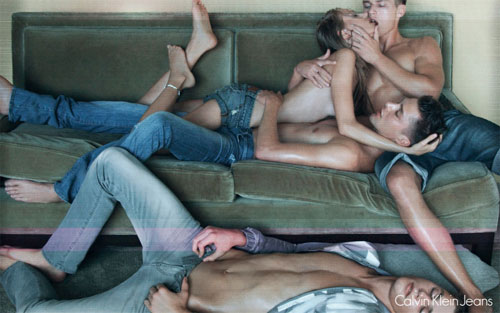 Calvin Klein jeans publicity campaign
That may be the hope, but the recent strength of denim in a tough sales environment doesn't make jeans a good fit for all. Industry insiders expect some apparel chains to end up discounting their denim to move it out of stores, though lean inventories should mitigate some of the risk to profits.
As Gap Inc promotes its new "Gap 1969" jeans with eye-catching window displays, a host of disparate rivals from AnnTaylor Stores Corp to Guess Inc are upping the ante on the $12 billion apparel category, whose sales grew 8 percent in the 12 months ended June, according to research firm NPD Group.
"It's definitely more popular and retailers are using it to drive traffic," said Brean Murray, Carret analyst Eric Beder. "We're seeing denim go to places you'd be surprised to see it."
Whereas Gap, Levi Strauss and Liz Claiborne Inc's Lucky Brand built their brands around denim, others like Coldwater Creek Inc, a seller of traditional women's apparel, or Cache, best known for dresses, are now testing out the category as well.
They're buoyed by denim's strength in the recession. Shoppers are foregoing other clothing choices for jeans, which can be worn often, on both casual and dressy occasions.
Kenneth Cole, known for menswear, has added hip jeans styles for women, and even the windows at buttoned-up Brooks Brothers feature a mannequin wearing denim.
"The question remains, is Ann Taylor the best place to buy denim? Is Cache the best place to buy denim?" asked Beder, adding: "It's going to get discounted because there is too much of it."
Others disagree. Since everyone from infants to the elderly can wear jeans, brands can reinterpret denim for their specific clientele. If successful, "it could really work for them," said Monica Tang, retail strategist at global consultancy Kurt Salmon Associates.
And since retailers have pared inventories and ordered conservatively in the tough selling environment, the risk of deep markdowns is low, some say.
"My bet is no one is too deep into denim right now that there will be much markdown risk," said Majestic Research analyst Chandi Neubauer. "Unless they get it wrong. If they get it wrong, all bets are off."
MIDDLE MARKET GROWTH
As apparel brands test the waters, investment bankers are sniffing out opportunities in the mid-priced market in the hope of replicating the ongoing success of the premium market, where jeans can cost hundreds of dollars.
"There is a big opportunity at a $50 to $150 middle-ground price point offering the fashion and fit (of premium) at a more moderate price point," said Paul Zaffaroni, vice president of investment banking for Roth Capital Partners.
"The middle market is the most reliable and strongest segment for many manufacturers," said Dina De Fazio, vice president of marketing for YMI Jeans, found at retailers from Nordstrom Inc to J.C. Penney.
Buckle Inc, a chain that sells hip clothing, has been a winner among retailers for exploiting denim opportunities at moderate prices, selling a range of brands from Miss Me to MEK priced from $75 to $150, said Zaffaroni.
Despite recent weakening same-store sales, the company logged a 14 percent sales rise in its latest quarter, and analysts expect 2009 operating margins of over 20 percent.
Another winner could be Gap, which says shoppers have responded positively to its new denim. Credit Suisse recently upgraded the stock, citing renewed Gap traffic, improvement at the Old Navy chain, and a new focus on top line growth instead of focusing purely on profit margins for more than a year.
(Editing by Steve Orlofsky)
© Thomson Reuters 2023 All rights reserved.