L'Oreal ads banned for retouched photos
LONDON (Reuters) - Two L'Oreal cosmetics adverts featuring actress Julia Roberts and supermodel Christy Turlington were banned in Britain by the Advertising Standards Agency on Wednesday, following complaints by MP Jo Swinson.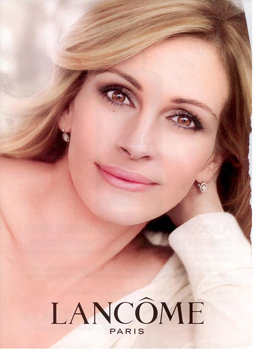 Julia Roberts retouched for Lancôme
Liberal Democrat MP Swinson said the magazine adverts for foundations made by Maybelline and Lancome, both owned by L'Oreal, were misleading because the photos had been digitally altered.
The ASA upheld her claim and banned the adverts for Maybelline's "The Eraser" foundation featuring Turlington and Lancome's "Teint Miracle" starring the brand's ambassador Roberts, saying there was not enough evidence to show the retouched images accurately reflected what the products could achieve.
"Excessive airbrushing and digital manipulation techniques have become the norm, but both Christy Turlington and Julia Roberts are naturally beautiful women who don't need retouching to look great," said Swinson.
Lancome defended the image of Roberts as an "aspirational picture" of what the product could do and said her luminous complexion in the advert was down to her natural beauty and lighting used by the photographer Mario Testino. It said changes made by digital enhancement were not "directly relevant" to what the product was meant to achieve.
Maybelline said they believed the advert accurately portrayed what The Eraser could achieve despite airbrushing and pointed out that crows' feet and other lines were still visible in the retouched image.
L'Oreal has faced similar complaints in the past and had to add a disclaimer to adverts for their Telescopic mascara featuring actress Penelope Cruz, saying that she was wearing false eyelashes after the ASA ruled the adverts exaggerated the effect the mascara could have on lash length.
The ASA received complaints last year that British singer Cheryl Cole was wearing hair extensions in adverts for L'Oreal's Elvive shampoo, but said the campaign was not misleading for consumers, who would understand Cole had been professionally styled.
Lancome and Maybelline expressed disappointment that the adverts had been banned in statements on Wednesday.
Both companies said scientific tests proved the effectiveness of their products and cited consumer surveys that showed a majority of women found the foundations achieved the desired results.
(Created by Clare Kane)
© Thomson Reuters 2023 All rights reserved.