Labels look to get streetwear back in fashion in New York
By Christine Kearney
NEW YORK, Sept 18 (Reuters) - Baggy jeans and oversized T-shirts used to be everywhere from the city streets to the runways of designer labels, but these days sportswear and urban lines are looking to create new, niche looks.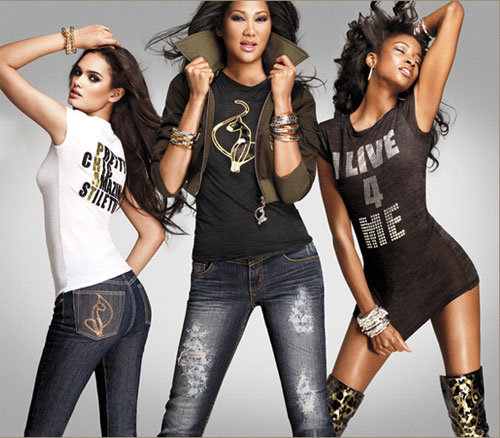 Baby Phat - Photo: www.babyphat.com
Urban labels, traditionally inspired by city youth culture and underground music, say they want to reinvigorate a streetwear look that grew too mainstream, corporate and overcrowded with brands by music stars such as Sean "Diddy" Combs and Jay-Z.
"Streetwear lost its focus over the last five or six years because it became this generic way of dressing," said Gerlan Jeans designer Gerlan Marcel, 33, who launched her collection of bubble gum colored prints in New York last year.
"Some of us are now looking to do things fundamentally different."
At New York's Fashion Week, hip hop label Baby Phat featured acid-washed denim hot pants and gold bikinis, aimed at younger, hipper consumers, founder Kimora Lee Simmons said.
"My style is now chic fashion, just as much as it is hip-hop and rock-and-roll," said Simmons, a former model who launched the label with hip-hop record label Def Jam co-founder Russell Simmons, her former husband.
Other higher-end urban labels have relaunched their images from the days when everything was big and baggy.
Tommy Hilfiger, for one, is returning to its "preppie" roots, Chief Executive Fred Gehring said.
"There was a phenomenon of a specific urban approach to clothing, being the very oversized way of dressing, that's something that maybe six, seven years ago the company was designing into quite a lot," he said. "And that was a sidestep from really what the brand's authentically about."
But jeans -- a staple of streetwear with steady sales in the U.S. recession -- remain an easy sell, designers said.
"We can tone down our prices but also be smart in the marketplace and do things that are still interesting for the retailers," said Patrick Kraaijeveld of Dutch jeans company G-Star, which has successfully turned to emerging fashion markets outside of Western Europe.
Established and newer designers agree that musical trends help propel streetwear looks. "It's a lot more accessible to people," said London designer Carri Munden, 28, of Cassetteplaya, who worked with British singer M.I.A. on her sportswear label and has been commended for innovative bright colors in streetwear looks for men.
Both Munden and Gerlan aim to take their new designs to stores across the globe, and said the high-end labels could take the lead from newer labels that are once again daring to be different.
"There are a lot of young creative people that are making clothes for the street rather than taking elements of that and watering it down," she said. (additional reporting by Martinne Geller, editing by Ellen Wulfhorst and Alison Williams)
© Thomson Reuters 2023 All rights reserved.