Lack of black models keeps Naomi Campbell going
By Randy Fabi
ABUJA (Reuters) - Supermodel Naomi Campbell refuses to retire after more than two decades on the world's catwalks because there are still too few black beauties in the fashion industry.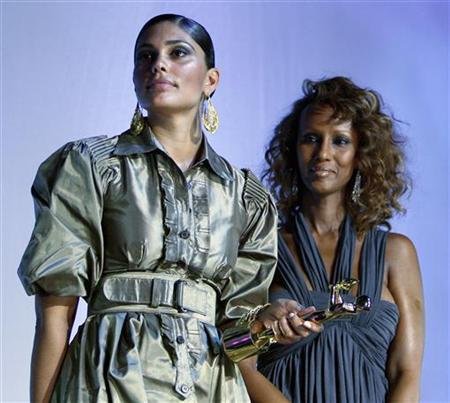 While many of her colleagues of the late 1980s -- like Cindy Crawford and Christy Turlington -- have moved on from the runways, the 38-year-old icon continues to turn heads at the world's top fashion shows.
"I'm very grateful for my career, but I worry for the girls after me for the opportunities they get -- the way they get treated. And this is one of the reasons I still do what I do," she told Reuters in a weekend interview in Nigeria.
Campbell, who as a teenager was the first black model to grace the covers of the French and British editions of Vogue magazine, said many fashion designers still favoured fair-skinned models over their dark-skinned counterparts.
"I don't do so many shows anymore, but I do count how many girls of colour they use in the shows. It happens to be last year New York was the worst," the British bombshell said, wearing a simple white short-sleeved top and blue jeans.
"Now at Paris Haute Couture there was only one black girl out of all the shows. It cannot be a trend."
Italian Vogue decided to use mainly black models in its July edition to highlight the problem.
"For me, it is something that is history-making. Something that I'm going to keep forever," she said about the magazine, which has a photo of her on one of four different covers.
The magazine also includes Tyra Banks, Iman, and other black actors, models and singers.
CUT FROM THE PROGRAMME
Campbell travelled to Abuja and Nigeria's commercial capital Lagos over the weekend to help kick-off a series of summer concert and fashion shows. It was her first trip to Nigeria, a developing country of 140 million people.
The festival, sponsored by Nigerian newspaper This Day, will make stops in Washington next month and London in October and aims to showcase Africa's best music and fashion.
But the opening in Nigeria's capital Abuja started five hours later and Campbell, along with the fashion show and all of the local African music acts, was left out of the show.
North American acts Jay-Z, Rihanna and Usher were the only ones to perform for the thousands of fans, some of whom paid as much as 60,000 naira (255.8 pounds) to attend, a fortune in a country where nine out of 10 people live on less than $2 (1 pound) a day.
Campbell's career has been overshadowed recently by her troubles with the law. Last month, she pleaded guilty to assault in an expletive-filled "air rage" incident in London and was sentenced to serve 200 hours of community service.
She spent five days mopping and cleaning toilets as part of a community service sentence in New York last year after throwing a mobile phone at her housekeeper during an argument over a pair of jeans.
Campbell did not specifically address her tirade against two British police officers and a British Airways captain, an incident she has said was partly prompted by someone calling her a black "Golliwog" doll.
When asked about her own personal experience with racism, the beauty simply said: "I'm a fighter".
(For full Reuters Africa coverage and to have your say on the top issues, visit: africa.reuters.com/ )
(Editing by Nick Tattersall and Paul Casciato)
© Thomson Reuters 2023 All rights reserved.