Lakshmi Machine fiscal year 2011 sales may grow 30 percent
By Aniruddha Basu

MUMBAI (Reuters) - Textile machinery maker Lakshmi Machine Works expects sales to grow by up to 30 percent in FY11, against a fall of over 15 percent last fiscal, on a rebound in India's textile industry.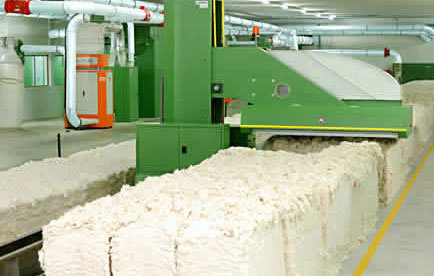 Photo: www.lakshmimach.com
"We are confident that the current financial year is going to be better than last year. The positive sign is the textile industry's performance," Chief Financial Officer R. Rajendran told Reuters on Monday 24 May.
"The on-market condition is good and the cotton industry is buoyant," he said in an interview.
"We are confident of a 25 to 30 percent (revenue) growth this fiscal".
Consolidated sales last fiscal fell 15.5 percent to 11.3 billion rupees as textile millers deferred a majority of orders in the first half of 2009/10 resulting in delays in execution.
However Rajendran sees a pick up in order inflow as demand for textile products rise in India. Its current outstanding order book stands at 29.8 billion rupees.
"Whatever orders we have been executing, to that extent new orders are also flowing in...compared to earlier times we have been able to reduce our delivery period substantially".
The firm is relying more on automated technology and less on manpower as it strives to keep a hold on costs and protect margins, Rajendran said.
It is investing about 1.2 billion rupees in FY11 mainly in upgrading and modernising its plants and machinery, and would fund the capex through internal accruals, he added.
"We don't need to tap the markets as of now. Our liquidity position is comfortable," he said, adding that the company has a cash balance of over 7 billion rupees.
"We intend to do some automation and foundry modernisation," he said, adding current capacity utilisation was at around 70 percent.
"Capital goods firms can go up to 85 percent (capacity utilisation), but due to constraints in availability of manpower and power issues our utilisation is at 70 percent".
The firm, which commands more than 60 percent of the domestic spinning machinery market, is also setting up a centre in Coimbatore in Tamil Nadu to make components required by aerospace and defence, Rajendran said.
"We would be making components and accessories to that industry. We have already started the process of registering ourselves as a vendor." The centre will start supplies later this fiscal.
The firm would count aerospace giant Hindustan Aeronautics Ltd as a major customer and is spending 300 million rupees on setting up the centre.
"Since it is a new area we would like to consolidate and grow slowly," he said, adding he does not expect a large revenue stream from this venture this fiscal.
Lakshmi Machine shares closed up 2.81 percent at 1,875.00 rupees in a firm Mumbai market.
(Editing by Ramya Venugopal)
© Thomson Reuters 2022 All rights reserved.