Late Easter boosts US retailer April sales
May 5 - U.S. retailers are likely to show strong sales gains in April when several chains report on Thursday, as the late Easter spurred sales of candy and clothes.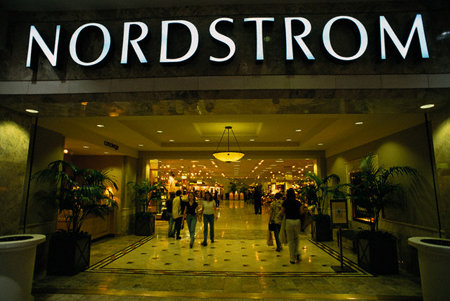 Entrance to Nordstrom's department store
The Thomson Reuters chain store sales index, which is based on analysts' estimates, calls for an 8.2 percent increase from the 25 retailers it tracks that report monthly sales. That would be on top of the better-than-expected 1.7 percent increase in March.
The biggest factor boosting sales is Easter, which was on April 24 this year and April 4 last year, moving many holiday related purchases into March.
Still, analysts are not expecting to see the big positive surprises that came with March sales, as gasoline prices push over $4 a gallon in parts of the country and unemployment remains high. That could also become more of a factor in coming months, when there is no major holiday to spur sales.
"I paid $4.45 a gallon today," said Patty Edwards, chief investment officer at Bellevue, Washington-based Trutina Financial. "I'll tell you, that is certainly cutting into my Nordstrom fund."
Retail chains ranging from discounter Target Corp to upscale department store Nordstrom are scheduled to report sales on Thursday, providing a fresh glimpse at consumer spending, which accounts for about 70 percent of the slowly recovering U.S. economy.
Already, some retailers posted April sales at stores open at least a year that beat analyst expectations, including teen apparel retailers Zumiez Inc and Hot Topic, and drugstore chain Walgreen Co.
"We do not think there has been any major change in momentum, and we believe the companies that have had strong comps (Limited brands Inc and Zumiez) continued to post strong results in April, and that those with weak results (Gap Inc) continued to be uninspiring in April," Barclays analyst Stacy Pak said in a research note.
Stocks have also priced in a strong performance in April, with the Standard & Poor's retail index .RLX up 15.9 percent since March sales were reported, compared with a 13.6 percent increase in the S&P 500.
Sales might have also been hurt by weather that was cooler this year than last year, according to business weather advisory firm Planlytics.
(Reporting by Brad Dorfman, editing by Bernard Orr)
© Thomson Reuters 2023 All rights reserved.