Latvia's small businesses see silver lining to crisis
RIGA, Dec 1, 2009 (AFP) - When Latvia's economy blossomed, Lotte Tisenkopfa was skeptical.
"I saw very well that the bubble's going to burst," Tisenkopfa told AFP in an interview in her office in Latvia's capital.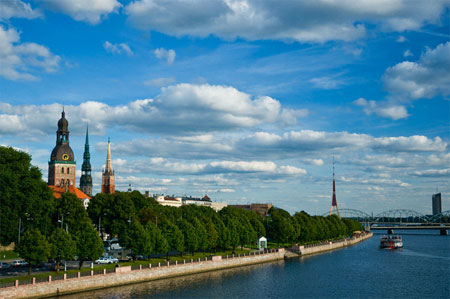 Riga, Latvia
As she kept watch on the looming crisis, she and her three friends founded Madana, a cosmetics company, at the height of a double digit economic boom in 2006, two years after Latvia joined the European Union.
She didn't borrow money from banks, relying instead on a one-time EU co-financing grant for women entrepreneurs.
When Latvia's credit bubble did burst last year, her foresight paid off.
For five-year-old Riga-based glass design company an&angel, the crisis has offered an opportunity to expand to markets outside the Baltic states as its focus shifted to exports.
Export turnover is expected to increase ten-fold this year over last year's level, project manager Agnese Gara-Nimane told AFP.
The company that produces glass and crystal wares started without any credit, expanding very cautiously, she said.
Small business owners who made careful decisions in the boom years -- borrowing a minimum and expanding slowly and cautiously -- are staying afloat as the Baltic nation's economic output is expected to shrink by 17 percent this year.
The country of 2.2 million people, which broke free from the Soviet Union in 1991, is suffering its most wrenching economic crisis since the stunning growth that accompanied EU membership.
But even as its economic success, built on a real estate bubble and freely-available credit, faltered, Madana's sales surprisingly grew thanks, in part, to its exports.
The Madana company began in a small lab, developing formulas for a series of eco-friendly facial cleansers, toners, and moisturizers for women.
Now it has a 1,000-square-metre (10,800 square foot) production facility, employing 30 people, shipping almost 70 percent of their production to more than 20 countries.
It plans to build a brand new factory in the near future and introduce a line of 15 new products next year.
With the crisis forcing consumers in Latvia to curb spending, Madana products continue to be sold in the Czech Republic, Japan, Bulgaria.
The company now hopes to conquer the US and Hong Kong markets.
Latvian officials hope that export partners' improving economies will pull Latvia's limping economy out of the deep economic swamp.
They touted the good news when exports exceeded imports in the second quarter of this year for the first time since 1995.
"In the months to come, it is foreign market activity that will underpin the growth of Latvian exports," Latvia's central bank chief Ilmars Rimsevics in a note recently posted on the Bank of Latvia's website.
As Latvian consumers curbed their spending and imports plummeted the country recorded a second quarter current accounts surplus. The measure of Latvia's trade with the rest of the world reached 14.2 percent, up from minus 15.1 percent a year ago.
"Improvements in export opportunities and the external environment will depend on restored competitiveness as a result of falling prices and lower costs ... It should be noted that in comparison with the end of 2008 Latvia's share in some foreign markets -- in Russia, Lithuania, Estonia, Finland, Denmark, Sweden, and Germany -- has expanded," Rimsevics said.
Thanks to the crisis, Munio Candela, a producer of scented candles, launched in 2007, found a reasonably-priced property as the real estate market practically collapsed, a co-owner Ieva Dexter told AFP.
"At that time the crisis was picking up and we decided to start slowly without bank loans or other outside support, which made us feel comfortable and confident of what we were doing. If there were no crisis we probably would be further ahead but we are certainly not behind," she said.
The company also exports to Japan and the European market.by Aleks Tapinsh
Copyright © 2023 AFP. All rights reserved. All information displayed in this section (dispatches, photographs, logos) are protected by intellectual property rights owned by Agence France-Presse. As a consequence you may not copy, reproduce, modify, transmit, publish, display or in any way commercially exploit any of the contents of this section without the prior written consent of Agence France-Presses.