Leading retailers threaten Australian wool boycott
LONDON (AFP) — Leading fashion retailers are threatening to boycott Australian wool after farmers said they would continue sheep mulesing, cutting of the hide to prevent disease, a report said on Monday 10 August.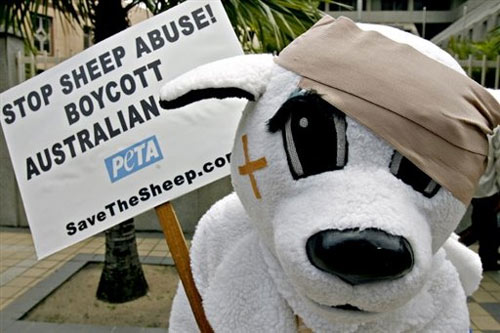 Photo: AFP
Next and Marks & Spencer are among major chains to condemn the decision as "totally unacceptable", and have pledged to seek wool from non-mulesed Australian farms, or from other countries, the Guardian said.
Marks & Spencer has pledged to use non-mulesed merino wool for suits in its menswear range after 2010.
In a letter to Australian wool industry leaders, the retailer is said to have stressed the "2010 deadline is not negotiable and loss of confidence in M&S wool products could well lead to widespread customer boycotting and loss of revenue for the whole supply chain," according to the newspaper.
The British Retail Consortium said it was "disappointed" at the announcement by the farmers last month, and at the end of 2010 its members "will seek to use suppliers who don't use mulesing".
"Next has expressed a preference for using non-mulesed and non-clip mulesed merino wool," a spokeswoman for the retailer said.
Animal rights activists have long campaigned against mulesing -- the Australian practice of cutting a slice of flesh from a sheep's rump to prevent the animal dying of flystrike.
Farmers had agreed to stop mulesing in 2010, but in July said they had not found a better way to prevent flies from embedding in wool near the sheep's backside and laying maggots, which eventually eat the animal's flesh.
Woolgrowers' body Australian Wool Innovation said it made the decision based on scientific advice.
Australia is the world's largest wool producer.
© Thomson Reuters 2022 All rights reserved.