Lebanese fashion designers reign supreme despite crisis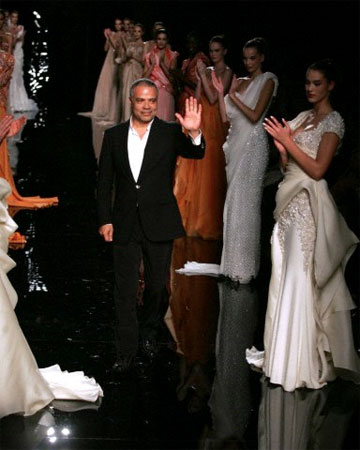 Models applaud Lebanese stylist Abed Mahfouz at the end of his fashion parade in Rome's Santo Spirito in Sassia complex late 30 January 2010 within the Roma AltaModa week.
(Reuters) - The top Western fashion designers suffered massively when purses around the globe snapped resoundingly shut during the financial crisis.
But Lebanese designers, who hail from a land where Fashion TV is the channel of choice at the swankiest bars, say they have managed to escape the brunt of the crisis because of two things -- affordable haute couture and rich Arab clients.
It's fair to say that Lebanon just doesn't do casual. High heels, form-fitting dresses and salon-styled hair are part of many Lebanese women's daily routine.
Renting a designer dress to wear at a wedding is far more acceptable, than, horror of horrors, opting to purchase a generic high-street gown.
So it's no surprise that the country's top designers became more famous for their elaborate, long, sequined and chiffoned collections than classical ready-to-wear lines. And their clientele keep coming back for more.
In fact Elie Saab, whose slinky, decidedly feminine dresses are a red-carpet favorite for many Hollywood A-listers, said his pret-a-porter lines suffered for a few months in the United States due to the crisis, and not his haute-couture lines.
"Lebanese designers have always been distinctive with their haute-couture, not pret-a-porter. What they present to the world is distinctive," Saab told Reuters.
Saab was speaking just before his first fashion show in Beirut in 18 years, where he showed his Autumn-Winter 2010/2011 ready-to-wear collection to mark the official opening of the opulent Beirut Souks shopping district in the city center.
But even that collection, already shown in Paris, was full of evening dresses frilled with lace, tulle and sequins in deep colours that he said were reminiscent of being in a "night-time forest."
Scarlett Johansson, Carey Mulligan and Emily Blunt have already been spotted wearing some of the collection's designs on the red carpet.
"If you go to a French fashion house, (for haute couture), the price is unnatural, it's as if they're saying 'we don't want to sell'. That's why haute couture is successful in Lebanon."
"It's the beauty of the piece ... and the prices are appropriate for women of the world," Saab said.
HAUTE COUTURE LUXE
Abed Mahfouz, whose dresses have been worn by Beyonce and Victoria Beckham, agrees.
To address the leaner pockets of his clients, Mahfouz cut his prices by up to 50 percent, a risky venture that other top designers have refused to do in the belief it would make the brand suffer.
Dresses that sold for between $70,000-$100,000, he slashed to $50,000-$60,000, forcing him to take a 30 percent cut in profits in 2009-2010. But Mahfouz says his risk paid off and his Middle Eastern client base expanded.
"I told myself that during the crisis years, I don't need to make big profits and show the world I can't work," he said.
"On the contrary, I wanted to show the world I'm here, innovating, improving, having runway shows," Mahfouz said at a showroom where rich red sequined gowns and a chiffon and sequin layered wedding dress were on prominent display.
"I did a wedding in Morocco, I was shocked, not only the wedding dress, but a dress for every one of the seven nights of celebration. The bride took dresses for $20,000 each and a wedding dress for between $150,000-$200,000."
Mahfouz says he's now getting more clients from Egypt, Libya, Tunisia and Yemen. Catering to the increased demand, Mahfouz is opening a new showroom in the elegant downtown Beirut district, a stone's throw away from Elie Saab's store.
But it is wealthy Gulf Arab women who are the true darlings of the likes of Saab and Mahfouz whose dress designs appeal to their elaborate and colorful tastes.
"With all due respect to all countries, Saudi Arabia is in one class and all the other Arab countries are in another," Mahfouz says.
He said that 50-60 percent of his sales come from Saudi clientele. While the women have to wear a long, black cloak known as abaya in public, they are often in resplendent gowns at elaborate high-society functions and weddings.
Gulf women's prominence was also obvious at Saab's recent fashion show in central Beirut's Solidere district where they were ushered to VIP seating while many Lebanese women struggled to find seats at the extravagant firework-studded event.
Mahfouz says the tightening budgets of the Arab world has developed a new niche -- which he calls haute-couture light. Instead of making a one-of-a-kind dress as haute couture generally is, he makes three or four pieces of the same design. Dresses that used to go for $25,000-$30,000 are now
$12,000-$15,000.
"My ready-to-wear is like haute couture ... So I have invented haute couture-luxe." The world likes to wear haute couture, but they want ready-to-wear prices."
(Editing by Samia Nakhoul)
© Thomson Reuters 2023 All rights reserved.