Limited, Phillips-Van Heusen results beat forecasts
SAN FRANCISCO (Reuters) - Limited Brands Inc posted a better-than-expected 35 percent rise in adjusted quarterly earnings by controlling costs and inventory, and raised its fiscal-year earnings outlook, sending shares up 10 percent.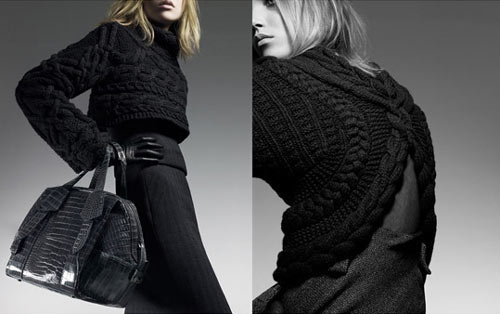 Calvin Klein ad
The results were a refreshing bit of good news for the owner of the Victoria's Secret and Bath & Body Works chains, which has struggled amid a long spate of sluggish sales at its stores.
Sales at stores open at least a year, a key factor in measuring retail success, still fell in the company's second quarter, but Chief Executive Leslie Wexner pointed to ongoing efforts in inventory and cost management as positives.
"We are very pleased with our performance in this challenging economic environment," Wexner said in a statement. "Although we expect that the environment will continue to remain challenging, we will continue to conservatively manage the financial aspects of the business...," he said.
Also on Wednesday, apparel maker Phillips-Van Heusen posted adjusted earnings that beat Wall Street targets, but the Calvin Klein brand owner gave a third-quarter earnings view that fell below expectations.
At Limited, second-quarter net income fell to $102.0 million, or 30 cents per share, from $264.4 million, or 67 cents per share, a year earlier.
Excluding gains in the year-ago period related to the company's sale of its apparel business and other items, adjusted earnings rose to 27 cents from 20 cents last year.
That soundly beat the 20 cents per share expected by Wall Street analysts, on average, according to Reuters Estimates.
Revenue fell nearly 13 percent in the quarter to $2.29 billion from $2.62 billion, the company said on Wednesday, slightly below the $2.3 billion expected by analysts.
Year-ago total sales figures included sales from its former Express apparel chain through July 6, 2007. Same-store sales fell 7 percent in the quarter, the company said.
Limited has been cutting back on real estate projects, lowering capital spending, controlling inventory and taking other steps to boost profit margins amid a retail slump.
In May, the company said that current fiscal-year same-store sales growth, a key gauge of retail strength, would be down in the low-single digits on a percentage basis. It gave no outlook on fiscal sales in Wednesday's press release.
The company gave a new full-year earnings range forecast of $1.45 to $1.60 per share, higher than an earlier range of $1.38 to $1.58 per share.
Wall Street had been expecting $1.48 per share, on average.
For the third quarter, the company expects earnings to be flat or range as high as 4 cents per share. Wall Street, on average, has been expecting third-quarter earnings of 4 cents per share, according to Reuters Estimates.
Over the past year, Limited has seen its sales suffer as U.S. consumers have cut back on trips to the mall, where most of Limited's stores are found, in light of higher gasoline prices.
Also hurting Limited has been the view by many consumers that sexy lingerie and sweet-smelling bath products are not necessities, given that more of shoppers' pocket money is going to pay for food, gasoline, and other everyday items.
Although Phillips-Van Heusen posted adjusted earnings that beat analysts' expectations, net profit in the second-quarter fell 25 percent on charges related to retail store start-up costs, customer bankruptcies and the exit from its Geoffrey Beene outlet business.
Shares of the shirt maker fell 2 percent to $32.50 after-hours on its disappointing third-quarter adjusted earnings forecast. It predicted a range of $1.07 to $1.13 per share, below the $1.19 to $1.23 per share expected, on average, by Wall Street.
Shares of Limited rose to $19.75 in extended trade after closing at $17.97 on the New York Stock Exchange.
(Reporting by Alexandria Sage; Editing by Phil Berlowitz)
© Thomson Reuters 2023 All rights reserved.