Lipstick factor helps dress up Debenhams sales
LONDON | Thu Jun 30 - Debenhams, Britain's No. 2 department store group, bucked doom and gloom in the retail sector with a rise in second-half sales driven by the so-called lipstick factor.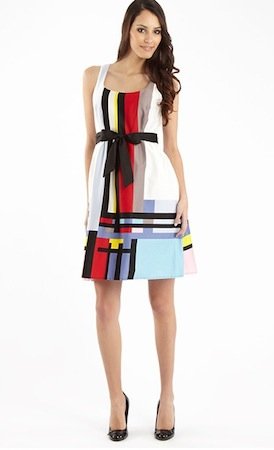 Principles by Ben de Lisi - Ivory Mondrian print dress SS2011
The firm, which trades from 169 stores in Britain, Ireland and Denmark and 64 franchised outlets in 25 countries, said it was winning market share and would meet expectations for 2011-12 pretax profit of about 158 million pounds.
Debenhams said sales at stores open over a year, excluding VAT sales tax, were up 1.5 percent in the 17 weeks to June 25, boosted by strong sales of cosmetics.
"It's probably one of the most resilient areas in the market, health and beauty. Everybody calls it the lipstick factor, that people still buy health and beauty whatever," Chief Executive Rob Templeman told reporters.
He said new fashion lines from its Designers at Debenhams range, such as Principles by Ben de Lisi and H! by Henry Holland, had also sold well.
While a host of other retailers have complained about a fresh dive in consumer confidence, Templeman said Debenhams' sales trends had got stronger in recent weeks.
"June has been a good month for us," he said.
However, he explained sales gains had been achieved in part through increased discounting, lowering full-year gross margin guidance from a rise of 10-20 basis points to flat.
"Because of the inflationary pressures and lack of growth in disposable income, we've chosen to drive cash margin by investing some of our gross margin gains into pushing top-line sales, and clearly that's working," he said.
Prior to Thursday's update, shares in Debenhams, which returned to the stock market at 195 pence in 2006 after two and a half years in private equity hands, had increased by 10.4 percent over the last three months.
The stock was down 1.3 percent at 67.5 pence by 0908 GMT, valuing the business at about 879 million pounds.
"Although top line (sales) has improved to a creditable level, margin has been invested to achieve this ... As a consequence, forecasts don't move ahead," said Singer Capital Markets analyst Matthew McEachran.
UK consumers are grappling with rising prices -- particularly in fuel and utilities -- subdued wages growth, limited credit, a stagnant housing market, government cutbacks and fears of interest rate rises.
This has triggered a spate of major retail failures, including home furnishings group Habitat UK, Moben Kitchens owner Homeform, discount department store TJ Hughes and fashion retailer Jane Norman, which had concessions in Debenhams stores.
Templeman, who will retire in September to be succeeded by deputy CEO Michael Sharp, said he expected some easing of inflationary pressures in late spring 2012, due to commodity price falls and currency gains working through the supply chain.
He added the firm has not yet spoken to the administrator of Jane Norman. There has been speculation Debenhams may buy the brand or residual stock.
Debenhams, ranked second after employee-owned department store John Lewis, forecast year-end net debt of about 400 million pounds.
© Thomson Reuters 2023 All rights reserved.