Loffreda moves into the game full time
By Rex Gowar
PARIS (Reuters) - Marcelo Loffreda's hugely successful eight-year tenure as Argentina coach comes to an end with Friday's World Cup third-place playoff against France.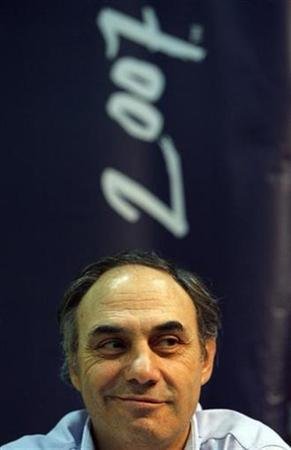 The former Pumas centre, a qualified civil engineer, also ends his working life outside rugby to dedicate himself fully to the sport he loves.
In less than a month's time the 48-year-old, who has coached the Pumas part-time since 2000, will be at the helm for Leicester Tigers, one of the biggest clubs in European rugby.
"I've worked as a civil engineer in construction, as sales manager of (Argentine textile firm) Alpargatas and now I'm going to devote myself to rugby," Loffreda said in an interview with Reuters.
"I'm very enthusiastic, I like challenges and this is an enormous challenge, to find myself at such an important club," he said after his last Argentina team announcement.
"It's going to be a totally new experience but I can put into it part of what I've gathered before and I'm also going to learn a lot."
Loffreda has certainly proved, not least to his new employers at Leicester but also to top coaches like Graham Henry and Jake White, with whom he has exchanged ideas, that he has a lot more to offer.
A man who believes success in rugby depends in great measure on the psychology of a team and the state of mind of the players, Loffreda said of the match between Argentina and France: "The bottom line is how the (teams) are in their heads after this long (World Cup) journey."
JONES FACTOR
Loffreda tips South Africa to beat defending champions England in Saturday's final and puts the difference down in part to the experience of Australian Eddie Jones as White's advisor.
"I think the Springboks have the capacity to beat such tough rivals with a well structured system and an impressive defence like England's, on which they have based all of their improvement.
"South Africa have some better chances than England but they will have to establish a game plan and I think that with Eddie Jones's help they can do that.
"Eddie Jones has the experience of having played the final of the last World Cup and precisely against England, so you can imagine those things are fundamental."
Loffreda starts at Leicester on November 5 following as short break after the World Cup.
"The idea was to be there in time for the first Heineken Cup match, the 10th or 11th (of November) against Leinster, which is the team of Felipe (Contepomi)," he said referring to the Pumas centre and place kicker who plays at flyhalf for his Irish club.
"I'm going as head coach, of course first I'll have some days looking at how their game system works.
"I don't in any way want to go in and impose anything by force. First, I think what's most appropriate is to see how they work and then start slowly getting involved and fitting in my ideas."
There is no-one better than Contepomi to say what Loffreda's qualities and legacy to the Pumas are.
"Loffreda has an attitude of sacrifice, in gesture rather than word, and can transform adversity or negative situations into positives. That gives you mental strength," he said.
Using Loffreda's nickname, he added: "El Tano (slang for Italian) was very important in the team's evolution. Before the talk was of an achievement with each big victory, today people simply say the Pumas are hard to beat.
"That changed the mentality of the Argentine player. We are at a World Cup with some players who are still amateur playing in the semi-final and the third-place match."
© Thomson Reuters 2022 All rights reserved.