London fashion offers color to combat economic woe
LONDON (Reuters Life!) - Fuchsia, orange, green and other strong colors brightened the collections at London Fashion Week by designers striving to make fashion fun again for women whose mood has been soured by the recession.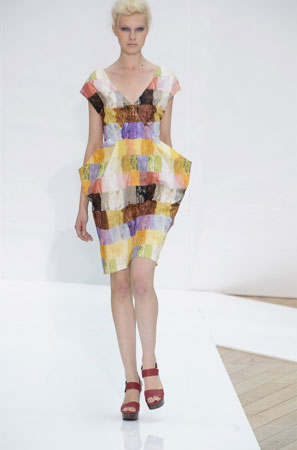 Nicole Farhi spring-summer 2010 at London Fashion Week - Photo: Pixel Formula
Dresses were short and structured or long and flowing, with bursts of purple and neon yellow, while jackets retained the strong shoulder at many of the spring/summer 2010 shows.
"Right now, everyone's looking for color, I think they're looking for optimism, more shape, less layering," Vogue editor-in-chief Anna Wintour told Reuters.
Paul Smith showed rainbow bright clothes inspired by the Congo, while Nicole Farhi designed cocktail dresses in orange and green, and one in neon yellow with a cut-out front. She also had a white, sleeveless coat with a narrow-belted waist.
"I had great fun with the colors," she said after her show. "I never take myself seriously but I do always serious work."
Luella Bartley stitched up dresses with tulip skirts in baby blue, pink and yellow, which she said were inspired by 1980s record covers and a reaction to somber fall collections.
"You just get a bit sick of this uniform that's all skinny and black," she said, greeting visitors backstage after her show. "I just wanted to do something that really popped."
The Tudor palace of Hampton Court and its flowers served as a font of ideas to Vivienne Westwood, while Julien Macdonald showed his collection, developed after a scuba diving trip, against the backdrop of an English country garden.
Describing his clothes as 'scuba chic', Macdonald sent models down the catwalk in leggings, miniskirts, cropped jackets with sharp shoulders, and long translucent dresses. "I think (women) want to get excited again," said illustrator Garance Dore, who also hosts a blog. "We are waiting for a crazy collection that will make us dream."
CUT OUTS
Dresses dominated many collections and cut-outs also featured prominently among several designers, revealing stomachs, backs and shoulders.
Matthew Williamson, originally from Manchester, made voluminous evening gowns, along with mini-dresses that bared the midriff, in green and blue like an impressionist painting.
"A lot of London designers are going for the longer lengths," said Lisa Armstrong, fashion writer for the Times newspaper. "In New York, it was all very short."
Bartley also had a yellow-and white dress with a heart cut out of the bodice, while heritage-label Aquascutum produced ruffled trench coats and long dresses in taupe and mustard yellow.
Australian design team Sass & Bide, back in London after an eight-year hiatus, came up with glittering golden gaucho shorts after a visit to Argentina and floor-length dress gowns with chain mail and gold beading that revealed much of the back.
"There's a move away from that skin tight, glove-tight body consciousness into more volume," said Hilary Alexander, the Telegraph's fashion writer. "The key that I've seen...(is) a return to the bra. Like Gaultier did for Madonna."
Jaeger's main colors were black and tan, but sky blue and pink also came into the mix. Designs were loose-fitting with chunky cardigans, high-waisted shorts, and harem trousers.
"It's tailored but in a much softer more unstructured way," said Stuart Stockdale, the label's design director.
At House of Holland models sashayed past spectators in denim jackets and purple shorts, while Paul Smith dreamed up a pink suit and bowler hat, striped tops and polka-dotted skirts.
"A very optimistic collection," Smith said of his work. "In these more difficult times (women want) just collections that are fully of energy, really. Full of life."
(By Catherine Bosley. Additional reporting by Lotte Williams and Harriet Morris; Editing by Paul Casciato))
© Thomson Reuters 2023 All rights reserved.