Luxury brands wrest back China market
Top global luxury brands like Burberry and Coach are pouring funds into China's multi-billion dollar luxury market, wresting control of their brands from Chinese partners as they swoop back into a market set to become world No.1.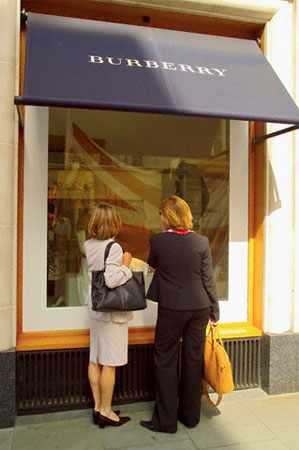 Photo : Corbis
Many piled into China over the last decade, pairing with re-sellers and joint venture partners, but with so much at stake, they are severing these ties and bringing their own considerable financial and marketing muscle as well as expertise to China.
In July, Burberry said it plans to buy its network of 50 China stores in 30 cities, now operated by its franchisee, for 70 million pounds ($107.5 million), a deal seen as adding up to 20 million pounds to its 2011-12 operating profit.
French handbag maker Longchamp has decided to buy out its Chinese distributor, and has assembled a Chinese team to take care of administrative tasks. Polo Ralph Lauren has also bought back China distribution right from Dickson Concepts.
"This is definitely a trend for luxury brands to operate in China themself," said Marie Jiang, retail analyst from Pacific Epoch, a China focused advisory firm.
"It's a booming market and is in a period of high growth at least in the next 3 to 5 years," she said, adding she expects to see about 30 percent sales growth in luxury brands each year in the coming few years.
China is now the world's No.2 luxury goods market, with sales up 12 percent in 2009 to $9.6 billion, accounting for 27.5 percent of the global market, according to consultancy Bain & Co. The figure is expected to grow further to $14.6 billion in the next five years, making it the world's top luxury market.
"Many of them gained experience after more than a decade of operation in the mainland, and are ready to roll over to the next phase of development of operating on their own, so they can reduce the distribution cost and raise the operating margin," said William Lo, an analyst at Ample Finance.
SOARING SALES
With its growing economic muscle, China has become an increasingly important contributor to the bottom lines of makers of luxury goods, as such brands appeal to many keen to show off their newly acquired wealth.
Earlier this week, Coach said its China business could reach $250 million by fiscal 2012, and double from that by fiscal 2015 -- a sizeable contribution for a company expected to post about $4 billion in total revenue for its current fiscal year.
Lamborghini, the Italian luxury sports car maker owned by Volkswagen, said its sales more than tripled in China to 86 cars in the first half of 2010, making the market its second-largest after the United States, even as its global revenues fell 2.6 percent with 674 cars sold during the period.
To keep their China expansion alive, many of the global players are expected to move into China's second- and third-tier cities in the coming years to tap demand there.
The largest cities in China's coastal areas now form the main sales base for most luxury goods makers, but are home to just 5 percent of the population, leaving huge room for growth inland and in smaller cities, said Selina Sia, a retail analyst at Mirae Asset Financial Group.
"Just like a newborn baby, it's in infancy stage," Sia said. "You have to get the quantity and at the same time you have to build and protect your image."
Swiss luxury goods maker Bally said earlier this week it plans to expand into lower-tier Chinese cities in coming years and has started opening boutiques in Hohhot in Inner Mongolia.
Analysts said rapid development of high-end shopping malls and retail spaces across the country should help the domestic expansion of luxury groups, especially as mall operators could offer attractive terms to land a big-name brands.
"Luxury brands don't like to spend a lot of money, it's all about branding generally," said Steve Yi, chief strategy officer of Grey Group, a global market communications agency. "They will depend on family and friends' opinion" to appeal to consumers.
(Editing by Doug Young and Valerie Lee)
© Thomson Reuters 2023 All rights reserved.