Luxury goods makers speeding along in China
May 25 - Luxury goods makers may boast familiarity with China, but the pace of change in the world's fastest-growing country still startles them.

The world's biggest luxury market within five years has become a second home for brands such Hermes, Prada and Tiffany & Co that tap Chinese appetite for fast super sports cars, 10,000-euro ($14,060) handbags and diamonds.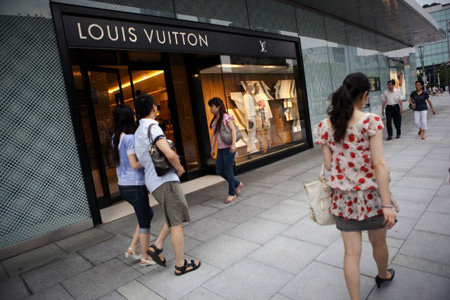 Men and women walk past a Louis Vuitton advertisement in front of the high-end department store Plaza 66 in central Shanghai, China (Photo: Corbis)
Top executives of groups such as Italian car maker Lamborghini and jeweler Harry Winston Inc told the Reuters Global Luxury and Fashion Summit this week that Chinese rapid change can befuddle them.
"The biggest surprise you get in China is the speed of change," Lamborghini's chief executive Stephan Winkelmann told the Reuters Summit in Paris.
The head of Harry Winston, the luxury jewelry and watch retailer whose brand was immortalized by Marilyn Monroe, said the passion for true luxury in China has no limits.
"Nothing is too big, nothing is too beautiful, nothing is too expensive for the Chinese today. They are on a quest for true luxury," Harry Winston's chief executive Frederic de Narp said in a telephone interview from Shanghai, where the company plans to open two stores by the end of the year.
Italian online fashion retailer Yoox, which opened the first western fashion brand's online store in China last year, said tech-savvy Chinese shoppers are the most up-to-date.
"Chinese fashion people are changing. They are getting more and more sophisticated with a speed that I have never seen in my life with any customer," Yoox's Federico Marchetti said.
"In two years from now they will be the most sophisticated customers of fashion in the world."
Yoox is planning to bring more high-end designers to China, with all online stores in Mandarin and transactions offered in yuan. Last year Hermes launched China-focused label Shang Xia, which means "up down" in Mandarin.
For Belgian-born designer Diane von Furstenberg, whose wrap dresses symbolized women's freedom in the 70s, China has always been a dream. She plans to open a website for the country.
"I was obsessed with China, still am," the designer told the Reuters Summit in Paris. "Two years ago my New Year's resolution was to be known in China and I am now," she said.
Money is running in China as fast at fairs and showrooms as it is on the Internet, other executives said.
"During the Basel watch fair, a Chinese retailer offered to buy our entire annual production of the automatic Golden Bridge model," Swiss watchmaker Corum's chief executive Antonio Calce said.
Lamborghini's Winkelmann said new wealth comes hand-in-hand with a passion to own the finer things in life.
"They come with their suitcases of money to buy. For me it's still astonishing that these things exist. It's the child-like enthusiasm for the things, which is something for me unknown in the western world."

By Antonella Ciancio
(Additional reporting by Astrid Wendlandt, Pascale Denis, Nathalie Olof-Ors in Paris, S. John Tilak in Toronto, Phil Wahba and Dhanya Skariachan in New York)
© Thomson Reuters 2023 All rights reserved.