Madame Gres Paris exhibit is ode to draped fashion
July 11 - A pleat is just a pleat -- unless, of course, your name was Madame Gres. For this celebrated couturier, who pleated and draped her way through a half-century career in fashion, the art of meticulously folding fabric over the body to create dramatic sculpted forms elevated craft to art.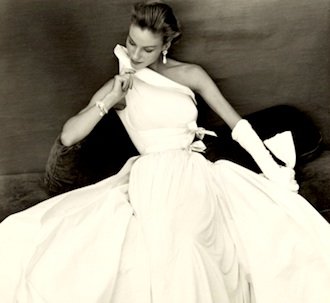 Madame Grès.
Some 80 flowing creations from the artist, who died in 1993, are on display this summer at the Musee Bourdelle in the French capital. The collection, culled from the archives of the temporarily shuttered Musee Galliera of fashion, is the first retrospective of this legendary Parisian with the signature Angora turban to whom contemporary fashion designers owe much.
In one stunning example, electric orange silk falls in hundreds of tiny folds in three tiers accentuated with brown ribbon in a 1977 dress that is at once contemporary and classic.
In another room, seven white evening gowns dating from the 1950s to the 1970s offer versatility around a common theme. The dresses move from modest Grecian simplicity to the avant-garde, with one featuring an exposed torso and a torpedo-like brassiere.
As the haute couture shows in Paris wind down -- a fashion free-for-all in which top designers vie to outdo rivals with ever-escalating glitz and glamour -- the exhibit provides a rare look at a 20th century designer for whom simplicity and perfection, rather than ostentation, were lifetime goals.
"Perfection is one of the goals I'm seeking," Gres was once quoted as saying. "For a dress to survive from one era to the next, it must be marked with an extreme purity."
Grecian-inspired dresses have never really gone out of style, and modern-day celebrities from Anne Hathaway to Natalie Portman have made recent red-carpet appearances adorned in cascading folds and intricate tucks and pleats.
Purity of form, expert craftsmanship and an unwavering belief in her vision allowed Gres to find success making essentially the same neoclassical dress over and over -- in hundreds of different ways.
SINGULAR VISION

Against a backdrop of massive sculptures by Antoine Bourdelle, for whom the museum is named, the first look on display is a 1945 asymmetrical white silk jersey gown now owned by Vogue editor Hamish Bowles. The hundreds of intricate pleats falling from the waist and bodice create a look that could easily have sprung from the friezes of the Parthenon.
Born Germaine Emilie Krebs in 1903, Gres, had wanted to be a sculptor but ended up spending a lifetime exploiting the myriad possibilities of draping fabric. She took the name Gres, the alias of her Russian painter husband.
First gaining notoriety in 1935 with the costumes for Jean Giraudoux's Surrealist play, "The Trojan War Will Not Take Place," she began to design under the name "Alix." Photographed by Cecil Beaton and Horst P. Horst, her gowns were worn by the glitterati from Marlene Dietrich to the Duchess of Windsor.
Gres could take 2.8 metres (9 feet) of fabric and reduce it through pleating to 7 cm (2.8 inches). That provided not only volume, but an inner structure that required no corseting or reinforcements.
With her generous use of fabric in wartime, she angered the Germans, who ordered her Paris shop to close. But the jersey silk and taffeta creations continued unrelenting after the war and through the decades to follow.
"Once one has found something of a personal and unique character, its execution must be exploited and pursued without stopping," Gres said, in a quote used in the exhibit notes.
While other couturiers of the 20th century experimented with more dramatic flourishes, whether ruffles, appliques or prints, Gres was content to focus solely on the humble pleat.
The understated fashion device becomes magic in a vibrant coral red taffeta gown, with Gres's signature work in two oversized billowing sleeves that burst forth from the shoulders.
A black silk organza from 1977 whose vertical peek-a-boo openings through the bodice mirror the vertical folds of the cascading fabric is both sophisticated and highly sensual.
The exhibit, which runs through August 28, has attracted not only fashion fans but art lovers too.
One artist touring the show, Isabelle Jarreau, brought along her teenage art school students armed with sketch pads.
"I like them to discover things to draw that emerge from creativity," she said. "It makes their imagination run."
(Reporting by Alexandria Sage, editing by Paul Casciato)
© Thomson Reuters 2023 All rights reserved.