Mauritius' Ciel Textiles net profit slides 51%
PORT LOUIS, Sept 25 (Reuters) - Mauritius-based clothing group Ciel Textiles Limited (FKL.MZ) posted a 51.16 percent slump in full-year net profits on Friday 25 September that it blamed on a fall in demand and aggressive price cutting.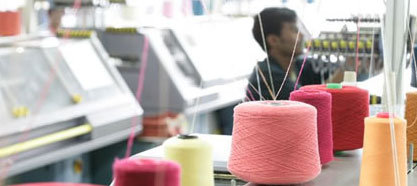 Photo: www.cielgroup.com
The group, which supplies stores like Marks & Spencer Group Plc (MKS.L) and Next (NXT.L) in Britain and Spain's Zara, said a weaker local currency had boosted final quarter results.
But it warned that exchange rate movements could weigh heavily on the coming financial year's figures. Post-tax profit fell by more than half to 61.9 million rupees ($2.02 million).
"The results for the year show a decrease in profit before tax of 24.8 percent due primarily to price and margin reductions resulting from a very soft market and aggressive international competition," it said in a report on the fiscal year to June 30.
Taxes included a non-recurrent deferred tax charge of 26 million rupees, the group said.
Listed on Mauritius' secondary Development and Enterprise Market, Ciel Textiles said its earnings per share dropped to 0.37 rupees from 1.12 rupees last year.
It said early orders for the coming financial year looked solid, while cost reductions would contribute to improved results during the first half compared with this year.
"Whilst markets remain soft and pressure on prices remains high, we expect that greater operational effectiveness will help us to achieve better results for the first semester," it said.
Textiles contribute 6.5 percent of the Indian Ocean island's gross domestic product and account for 11 percent of jobs. But the sector has been hit hard since early 2008 by record high oil prices, a strong rupee and the economic slowdown abroad.
Turnover for the year was up 5.21 percent to 6.86 billion rupees, the company said.
In July, Ciel Textiles' chief executive Harold Mayer told Reuters the group's main clients were trading at 5-10 percent less than the previous year, but that it had held or maybe slightly increased its market share.
The group warned that its operations in neighbouring Madagascar could be impacted over the coming 12 months by that island nation's ongoing political crisis. (Writing by Richard Lough; Editing by Daniel Wallis) ($1=30.70 Mauritius Rupee)
© Thomson Reuters 2023 All rights reserved.