Menswear retailer Moss Bros underlying sales fall
LONDON (Reuters) - Menswear chain Moss Bros said on Friday like-for-like sales for the first 19 weeks of the year were down 1.5 percent amid rising inflation and a gloomy outlook for consumer spending.
"The men's retail market continues to be extremely challenging, but management believes the business is well set up to navigate this difficult period," Chief Executive Philip Mountford said in a statement.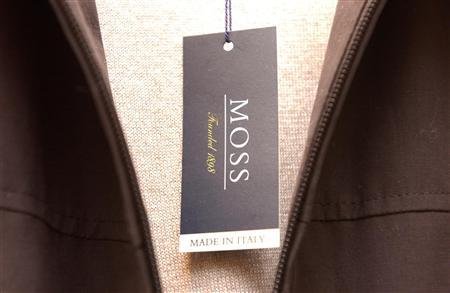 The firm said it would pay a special dividend of 1.3 pence per share next month.
Shares in Moss Bros fell as much as 2 percent to 39.25 pence at 9:25 a.m.
Analysts at Landsbanki reduced their forecast to a loss before tax of 1 million pounds on sales of about 130 million pounds for the year to end January next year from an estimate of 1.9 million pounds profit before tax. It expects a moderate losses for Moss Bros continuing into 2010.
The menswear chain said it would focus on implementing its strategy of growing its business and developing its Asian supply chain.
"With the distraction of a potential takeover bid now removed, management's attention and energy will be re-focused on driving the business," said Mountford.
Icelandic investment group Baugur Group last month abandoned plans for a 42-pence-a-share bid for the menswear chain, after clothing and furniture retailer Laura Ashley raised its stake.
Laura Ashley further increased its stake on Friday to 10.05 percent from 9.86 percent.
The firm did not say if it planned to buy more shares.
"It is for investment purposes," David Cook, Finance Director at Laura Ashley told Reuters.
Laura Ashley bought 2.2 million shares at 46 pence on May 21, and a further 66,363 shares at 45 pence on May 23.
"These issues of control leave us feeling somewhat agnostic about the shares for now, and while we have a 12-month price target of 40p, further downside would not surprise us in the short term," the Landsbanki analysts said, keeping a "hold" recommendation on Moss Bros shares.
(Reporting by Rania El Gamal, editing by Will Waterman)
© Thomson Reuters 2023 All rights reserved.