Milan designers take men on spring journey
By Marie-Louise Gumuchian
MILAN (Reuters) - Designers at Milan's fashion shows are putting a dash of the exotic in their collections for men's wardrobes next spring and summer, looking to places like Africa or Brazil for inspiration.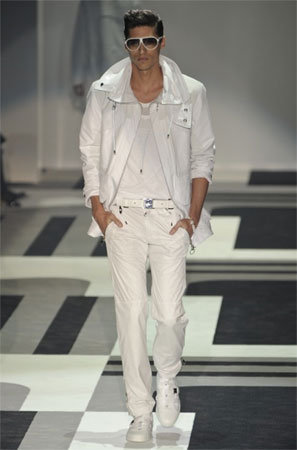 Gucci, Spring-Summer 2010 from Frida Giannini
Injecting color and showing plenty of sportswear shoes and roomy bags, several top names at Milan's spring/summer 2010 menswear shows, which started Saturday 20 June and ends on Tuesday 23 June, seem to taking on a travel trend.
Gucci's Frida Giannini went to Rio, looking to the works of architect Oscar Niemeyer and his white buildings against Brazil's piercing blue skies.
She presented white slim tailored suits with color ties and printed shirts for a mood described as "resolutely optimistic."
There were featherweight leather jackets and hooded anoraks, paired with leggings or shorts as well as hand-knit sweaters.
For the evening, deep indigo blue was the new black for Gucci with glossy suits that also came out in fiery red.
Quoted by Italian newspapers on Monday 22 June, Giannini said the look represented "a desire of escapism, of lightness and freedom with the sporty and super chic attitude of someone who can take long holidays on the Brazilian beaches."
Versace looked to the French Foreign Legion, the Tuareg culture and north Africa for its menswear line that featured unbuttoned tunics, light trousers, leather sandals and silver and leather plaited jewelry.
Design head Donatella Versace used prints that evoked "the hazy light of a mirage in the desert" and a neutral palette -- white, sand, khaki with flashes of violet, orange and green.
To complete the desert look, models wore their sunglasses on a string and had caps with neck protectors in the "kepis" style. They wore belts in woven leather and desert boots.
On Monday 22 June, Salvatore Ferragamo also looked to Africa with a "colonial style revisited for the modern eye, evoking the exotic with irresistible contrasts" such as natural fibers like raffia against luxury leathers like crocodile and alligator in bags.
Colors were earthy -- burned browns, ochre sands, coral reds and indigo blues. Jackets were slim fit and light, shirts had contrasting cuffs and collars while trousers had small pleats.
Also showing on Monday 22 June, Roberto Cavalli took his male buyers on a journey of rediscovering their bodies.
His silhouette was triangle with strong shoulders -- at times decorated with embroidery, an emphasized torso with revealing vests and tops and tight-fitting trousers -- the intention of revealing and highlighting the "fit body" of the Cavalli man.
"It is man who is beginning to love himself and wants to make himself evident," Cavalli told Reuters.
(Editing by Paul Casciato)
© Thomson Reuters 2023 All rights reserved.