Milan fashion week: a rather subdued affair
With the exception of the some of the big names in fashion, the 76 ready-to-wear masculine collections for spring-summer 2013 – of which 41 took to the runway – presented in Milan from 23rd to 26th June didn't really bring in the crowds. There were even empty seats at several of the shows. Whilst La Camera Della Moda has spoken of its satisfaction with the event in a closing statement, it seems that the many buyers stayed away, especially the Italian retailers. "Italian buyers have been particularly selective – the numbers were down by half. But it's not been the same with foreign buyers. Overall, there was a rather positive atmosphere. From the collections presented, we noticed a real leaning towards positivity", said Maurizio Purificato from the Milanese boutique, Antonia Uomo.

Beppe Angiolini, president of the Italian chamber of buyers, is not of the same opinion. "The principal Italian buyers were there", he said whilst nonetheless recognising the current difficult situation. "We're in a very particular time. I'm not saying that the atmosphere is tense, but retailers are very aware of the fact that less people are going into their stores. There's less interest in fashion, and that's worrying. But fashion companies have made an effort. They've invested, and we've reached the same level as in previous seasons".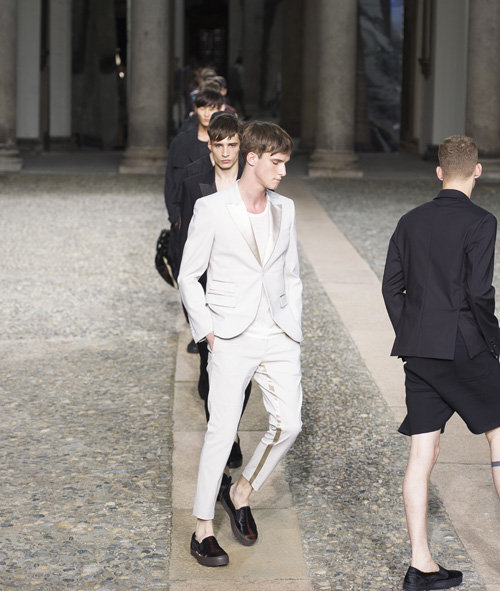 Neil Barrett, spring-summer 2013 / Photo: Pixel Formula
The effects have been felt more strongly by certain Italian retailers based in more rural areas, like Federico Cilli who owns Felù, a men's and women's boutique in Pescara, in the Abruzzo region. "Sales this summer have been awful. There's a lot of fear and a lot of suffering", he said. "We came to Milan to get some clarity and an idea of what's going on. But in fact it's no clearer for us now than when we came. Everything is confused. Three quarters of the people at the runway shows were journalists, and as for the trade fairs – we went to White on the last day, Monday, and it was dead!"
Foreign buyers on the other hand have been more enthusiastic, such as Ichiro Matsui from Japanese department store Daimaru Matsuzakaya. "I think that the collections presented in Milan are much more creative than before. I loved the Prada and Versace shows, in particular". Alejandro Gutiérrez, buyer for Spanish boutique Elite from Puerto Banus near to Marbella, remarked that "the clients for menswear are very focused on the big labels. They're not too keen on novelties. And they buy shoes, above all else". Gutiérrez isn't complaining though. He came to the Milan shows, as well as White, to get an idea "of the whole look and image of the labels", looking for new trends. He will of course also be in Paris where, he says, "labels take a lot more risks with menswear".
Copyright © 2023 FashionNetwork.com All rights reserved.