Milan inmates showcase designs at prison show
By Marie-Louise Gumuchian
MILAN (Reuters Life!) - The models strutted past, the celebrities sized up the fashions and the prison guards kept a close eye on the catwalk.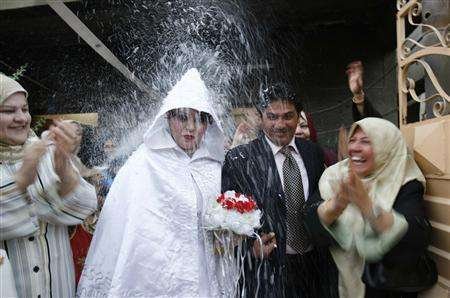 Welcome to Milan's San Vittore prison, where female inmates showcased a collection on Wednesday of three wedding dresses at a glamorous fashion show to launch their own womenswear line.
Having learnt tailoring skills from a local cooperative that aims to help women behind bars, prisoners and former inmates displayed stylish dresses alongside creations by big Italian names like Giorgio Armani, Prada and Alberta Ferretti.
"It is like a dream has come true," said Ecuadorian Mariuxi, who left San Vittore last year and works for the Cooperative Alice, which runs the project.
"It is work that brings happiness after an ugly period."
The women received loud applause for the dresses they made, designed by Rosita Onofri, who collaborates with the cooperative. One had white flowers stitched on, while a knitted-like bodice topped another. Hats decorated with flowers and cool white-framed sunglasses added a stylish touch.
Both prisoners and former San Vittore inmates work for the Cooperative Alice in Milan, and have already made costumes for theatre and television as well as clothes for small shops.
They already sell a line of T-shirts under the "Jail Cats" brand with a motif of cats or prison bars on the cooperative's website. Wednesday's show was a preview to the "Sartoria SanVittore" line they will launch in the Autumn.
"For them, it is a beautiful moment," Alessandro Brevi, of the Cooperative Alice said, adding that the show, the cooperative's fifth, was a call for distribution. "Initially we start with the Web site, then -- who knows -- maybe Paris."
The cooperative has operated for some 16 years in Milan's jails and the scheme aims to help women acquire skills for life outside prison. It takes former inmates to work at its office, making it easier for them to find a job once out of jail.
For the women, some of whom also have chores in the prison kitchen, the project is an exciting prospect. They clapped to messages of support from Italian TV stars and wowed at dresses by top designers, with cries of "Mamma Mia!" for some creations.
"It is important for social work, fashion and business," said Tiziana Maiolo, of the Milan city council, adding that two fashion houses had taken on some of the women for work. "Who knows if one of them isn't the new Prada."
(Editing by Paul Casciato)
© Thomson Reuters 2023 All rights reserved.