Mod-cons for the dead a sign of good life in modern Vietnam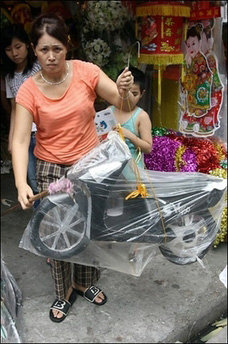 A vendor displays a paper scooter
Photo : Hoang Dinh Nam/AFP
DONG HO, Vietnam, Feb 5, 2008 (AFP) - Luxury villas, flatscreen TVs and mobile phones will all go up in smoke this Tet lunar New Year as newly affluent Vietnamese burn paper models of the latest mod-cons for their dead relatives.
In a sign of Vietnam's growing wealth, especially in the big cities, the product range of 'hang ma' votive offerings burnt for ancestors has shifted from common household items to a catalogue of high-end luxury goods.
Among the latest paper-and-bamboo replicas meant to make life easier in the afterlife are models of new Japanese motor scooters, sleek Sony television sets and DVD players, karaoke sound systems and even multi-storey family villas.
Under Vietnam's age-old ancestor worship tradition -- discouraged by the communist government but still widespread -- families at Tet burn these items to ritualistically send them through the smoke to the world of the dead.
"The Honda SH150 and Dylan models are now the favourite scooters for the departed," said craftsman Nguyen Huu Nang, 60, at a paper workshop in Dong Ho, a village outside Hanoi that specialises in making the paper objects.
"People now want more powerful and more expensive motorbikes," he said.
"We also sometimes make luxury cars, but only when we have a special order because a company director or a political leader has recently died."
For centuries Dong Ho, a labyrinth of alleys and red-tiled roofs, has been famed for its traditional woodblock prints, depicting ancient folk tales with natural colours on rice paper to make artwork popular especially during Tet.
But as tastes have changed, the number of households making traditional prints has dwindled from 150 in the 1950s to about five.
Today most families -- instead of chiselling woodblocks and mixing colours from indigo leaves and eggshell -- make paper mobile telephones and motorcycle helmets, which recently became compulsory in the world of the living.
Vietnam, two decades after launching its doi moi (renewal) market reforms, is now undergoing rapid economic and social change, with GDP growth rates of more than eight percent a year creating a new economic elite.
"In the 1990s people were content to provide quite basic hang ma items, such as bicycles and local currency," writes cultural anthropologist Shaun Kingsley Malarney in 'Vietnam -- Journey of Body, Mind, and Spirit.'
"Ten years later some families are offering motorcycles, refrigerators and even cars, while others prefer to burn copies of the American dollar, which is regarded as a more stable currency than the dong."
-- "The living want their dead relatives to feel good too" --
Families are now upgrading every year, said the Dong Ho craftsman, as he used sissors and a glue gun to turn piles of cardboard -- mostly scrap paper from industrial packaging -- into rows of fashionably red motor scooters.
"The living are enjoying a comfortable life, and they want their dead relatives to feel good too," he said.
Many urban Vietnamese are indeed now enjoying the good life, spending big for themselves and others especially before Tet at new boutiques opened by Louis Vuitton, Gucci, Shiseido and Cartier.
Ho Chi Minh City real estate tycoon Duong Thi Bach Diep last week spent a reported 1.3 million dollars to buy a custom-made Rolls-Royce Phantom, which she had airlifted to Vietnam just in time for Tet.
Yet Vietnam, a country of 86 million, remains a developing and mostly rural economy with average incomes below 900 dollars per year.
The World Bank has praised Vietnam for achieving one of the world's fastest declines in poverty, with the ratio of people surviving on less than a dollar a day falling from 58 percent in 1993 to 16 percent in 2006.
But Vietnam's new wealth has not trickled down to everyone. The boom has fuelled double-digit inflation that has made life harder for the poor.
A survey by the state-run General Statistical Office found that the richest 20 percent of households had incomes over eight times higher than those of the poorest 20 percent last year, state media reported.
Monthly inflation surged above 14 percent in January compared to the same month last year and was expected to rise further as shops hiked prices in the immediate leadup to Tet, the country's most important festival.
The spiralling prices of food, petrol and other basic goods have fuelled labour unrest, especially around southern Ho Chi Minh City.
In the year's first 20 days, more than 25,000 workers walked off the job in nearly 40 strikes, demanding higher pay and better conditions, mostly at Taiwanese and South Korean owned textile and shoe factories, the Saigon Times reported.
As Vietnam has industrialised, change has not spared the village of Dong Ho where families in past centuries, when they were not doing artwork, worked as rice farmers.
"We no longer have enough land to cultivate," said Nang, the craftsman.
Former rice fields have become industrial parks, and Nang said that at age 60 he is too old, and lacks the qualifications, to work in the factories.
"They leased the land for 50 years or more, and I won't live that long," he said. Making the votive paper models is now his best option.
"I have to do something to survive, to support my family."

by Frank Zeller
Copyright © 2023 AFP. All rights reserved. All information displayed in this section (dispatches, photographs, logos) are protected by intellectual property rights owned by Agence France-Presse. As a consequence you may not copy, reproduce, modify, transmit, publish, display or in any way commercially exploit any of the contents of this section without the prior written consent of Agence France-Presses.