Mongolians develop a taste for luxury
May 15 - In the 13th century, Mongol emperor Kublai Khan and his harem sported silk gowns, fur cloaks and jewel-encrusted head ornaments at their home -- the legendary pleasure palace in Xanadu.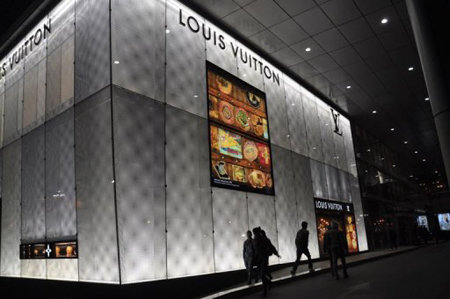 Louis Vuitton, Emporio Armani, Burberry and Hugo Boss have opened in Ulan Bator. (Photo: AFP, Michael Kohn)
Today, latter-day khans are again stepping out in some of the world's finest luxury fashions as Mongolia's minerals-fuelled economy boosts disposable income for the country's nouveaux riches.
Louis Vuitton, Emporio Armani, Burberry and Hugo Boss have led the charge of high-end shops opening in Mongolia's sprawling capital Ulan Bator, the flashy stores jarring with the city's Soviet-era apartment blocks and shantytowns.
"The domestic fashion industry is growing with the Mongolian economy and people have more money to spend," Hugo Boss shop manager Siizhuugiin Nasantulga told AFP.
"They would rather spend it here than go on overseas shopping trips."
Landlocked Mongolia, one of Asia's poorest countries, has seen its per capita GDP rise to $3,300 as foreign mining giants have come calling to tap into its vast deposits of everything from gold to coal.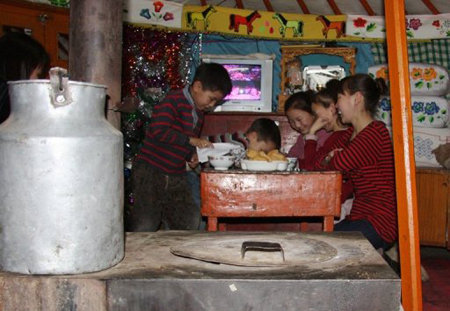 With an influx of new money members of the upper-income set have sought to outdo each other (Photo: AFP, Kitty Hamilton)
The economy is expected to grow at a healthy eight percent this year and the country's currency advanced 10 percent against the dollar in 2010, making imports cheaper.
With an influx of new money and the number of millionaires growing, members of the upper-income set have sought to outdo each other with name-brand fashion and fancy cars.
"Mongolians have great fashion sense and they are always looking for the highest quality products," says Nasantulga, a strapping 28-year-old with fluent English he learned while studying business overseas.
"People love to show off their cars and they take pride in dressing as well as they possibly can."
Luxury lifestyles have been a foreign concept for most of Mongolia's modern history. It was a communist country for nearly seven decades until a 1990 democratic revolution led to multiparty politics and a market economy.
Most of the luxury shops in Ulan Bator are located in the Central Tower, a new office building adjacent to Sukhbaatar Square, where the modern Mongolian state was established in 1921.
In the VIP room of the Louis Vuitton store, big spenders can lounge on white leather couches as they check out $1,100 shoes or $800 sunglasses.
Outside, luxury cars ply potholed streets. Flashy SUVs -- Toyota Land Cruisers, Hummers and Land Rovers -- stand snarled in traffic jams with models from Mercedes-Benz, Lexus and BMW.
Beyond the capital, a few Mongolians are taking to the roads in custom-built Mercedes-Benz Zetros trucks, packed with ultra-modern features like flatscreen TVs, bidets and even kitchens.
While the upper crust flaunts its wealth, most working class Mongolians barely make ends meet by toiling in mines, herding livestock, driving taxis or selling imported goods from China.
The average office-worker salary in the capital is around $250 a month and the minimum wage just $115 per month.
Foot traffic in luxury shops is therefore understandably low -- but ready to spend.
"We have relatively few customers but those that shop buy a lot," explains Armani manager Batbekhiin Batkhuu.
"For now the most important part of our business plan is establishing brand awareness. We need to educate people on fashion and which labels are the best."
The sizzling real estate market in Ulan Bator is helping to make these increasingly luxurious lifestyles possible.
When property markets were privatised in the late 1990s, flats were readily available for around $5,000, says Belgian real estate investor Chris De Gruben. Those same apartments now sell for around $90,000.
"These apartments form an important part of the economy. Locals can sell their apartment and use the cash to start a business and get a kick-start in life. It allows people to move forward," De Gruben said.
New apartments and penthouses are beginning to appear. In the prestigious Zaisan area in the south of the city, modern units start at around $2,000 per square metre.
The city's priciest digs are downtown in the sail-shaped Blue Sky building, where penthouses are advertised at $8,875 per square metre.
"As soon as people start getting money, they want to display their wealth," De Gruben said.
"You can see ostentatious displays of wealth anywhere in the world but in a place like Mongolia it's more apparent because it's still surrounded by high levels of poverty."
Some Mongolian-made luxury goods are even making their way overseas. The best-known is Gobi cashmere, which sells sweaters, scarfs, hats and coats made from the soft fur of Mongolia's 20 million goats.
"Demand for Mongolian cashmere is growing worldwide and we have a great opportunity to market cashmere products," says Batkhuu, the Armani representative.
"We can't quite compete with Italy for the fashion king title but Mongolia can still make a name for itself."
by Michael Kohn
Copyright © 2021 AFP. All rights reserved. All information displayed in this section (dispatches, photographs, logos) are protected by intellectual property rights owned by Agence France-Presse. As a consequence you may not copy, reproduce, modify, transmit, publish, display or in any way commercially exploit any of the contents of this section without the prior written consent of Agence France-Presses.