Moscow cuts down its fashion week
Desperate times call for desperate measures – Moscow has cut down its fashion week presenting autumn-winter 2009/2010 collections. It will take place from March 29 to April 4 in the Hall of Congress in the World Trade Centre in the city centre.
Fifty catwalk shows are expected all the same. Amongst them will be Russian and Ukrainian brands, but designers coming from France, Italy and Spain will also be seen throughout.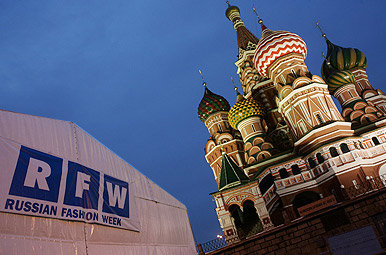 Moscow hosts the Russian Fashion Week from March 29 to April 4 2009
"Ordinarily we'd have sixty-five to seventy-five catwalk shows," explained Alexander Shumsky, president of the Russian Fashion Week (RFW). "This season though, like in Paris and Milan, the number of participants has decreased by about 20%, many of them preferring to make a presentation instead. Each wants to reduces its expenditure."
Key to entering the Russian market, every year the Russian Fashion Week attracts numerous foreign labels hopeful of expanding their client base. This year it is the turn of Vivienne Westwood; Julien Macdonald, Jenny Packham, Francesco Smalto, Frankie Morello, La Perla and Baby Phat. Equally anticipated is the show by Jean-Charles de Castelbajac who will be presenting a catwalk show for the first time on Sunday March 29.
"Moreover, all the big names from Russia will be there," noted Alexander Shulsky. Furthermore, the designer Slava Zaitsev will be opening the festivities with his collection of haute couture. In Moscow his popularity is comparable to a brand like Dior. Also figuring are: Arngoldt, Tatiana Parfionova, Julia Dalakian, Elena Souproun, Biryukov, Poustovit, Cyrille Gassiline, Viva Vox, Xakama, Masha Sharoeva, Chistova&Endourova, Tegin, Yulia Nikolaeva, MainAim, Personage and Liudmila Norsoian.
The first event dedicated to Russian fashion, the RFW invites around 50,000 to Moscow – of which 1,000 are journalists and buyers. A veritable media circus, the catwalk shows are televised by the World Fashion Channel for millions of viewers at home.

By Jonathan Fulwell (Source: Céline Vautard)
Copyright © 2023 FashionNetwork.com All rights reserved.