Mostly grey winter mainly at Milan menswear
By Marie-Louise Gumuchian
MILAN (Reuters) - Milan's designers showed next winter will mainly be grey and slimmed down for men, with sober creations that seemed to look for comfort in a chilly economic climate but a spat between two top names heated up the week.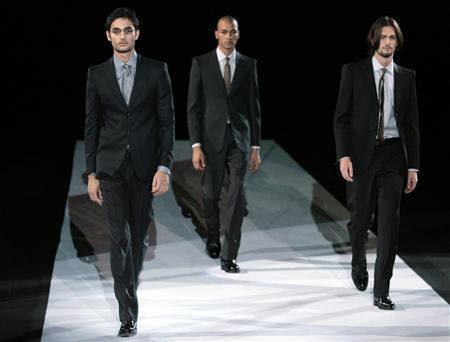 Various names at the autumn/winter 2009/2010 shows stuck to dark colors -- black, grey, brown and blue -- but Gucci's Frida Giannini colored shirts and ties beneath grey suits while duo Dolce & Gabbana added dashes of pink to loafers.
Italy's most famous designer pair were at the center of a tiff over trousers during the week as Giorgio Armani accused them of copying him and the duo in turn saying he has nothing to teach them.
Back on the catwalks, designers also slimmed down silhouettes -- small shouldered jackets or coats hung over skinny trousers.
"The trend of the season is grey ... it started out in suits and now it's in about just everything," Colby McWilliams, men's fashion director at upscale retailer Neiman Marcus, said.
"It's a good base but we also need color."
The doyen of Italian fashion, Armani, went for a fitted silhouette for his formal wear, puffed jackets and loose trousers knotted at the waist. Scarves were worn as shirts.
For his Emporio Armani brand -- a show attended by English soccer star David Beckham -- he chose an "eco-style," using green and short jackets topping high-waisted trousers.
Bottega Veneta took inspiration from the softness of a cardigan, with Creative Director Tomas Maier saying the maison had thought very carefully about what its customers wanted now.
"The last collections, for us, were very paired down, restrained and not opulent. I'm not about opulence at all, I'm not showy. I don't think it's what anybody wants right now."
In a mainly black and grey collection that won praise from many, cutting-edge designer Miuccia Prada presented smooth, collarless coats and leather sweaters. Designs were peppered with metal studs -- on shoes, the front or back of trousers, shirt collars and coats.
BACK TO THEIR ROOTS
Several designers felt it was the moment to go back to their roots, with Dolce & Gabbana paying homage to Sicily, and Burberry Prorsum, with a collection described as "modern nostalgia," featuring outerwear and its famous check.
Roberto Cavalli also said he was going back to the spirit of his origins.
But he used a hacienda-like set for his show, and models walked down in loose blanket coats, oversized shirts and slim trousers.
For materials, both cashmere and velvet featured heavily.
It was not all grey though. Domenico Dolce and Stefano Gabbana showed off "Gold Edition" jeans, featuring 24-carat gold metal details. For the evening, models wore silk-like jackets, hand-intertwined, in white and black, red and pink.
They also had quilted-silk trousers with a tuxedo stripe, quilted satin robes and military style jackets.
For their D&G line, Oscar Wilde inspired the duo for an "aristocratic and dandy" style recalling English sartorial traditions with tailcoats, also with a military influence.
They had burgundy, dark green, blue and gold touches to their clothes. Knits had rich tapestry prints while T-shirts had portraits of Wilde and Jacques-Louis David's painting "Leonidas at Thermopylae."
Donatella Versace described her man for next winter as "strong, virile and supremely self-assured."
Paying tribute to iconic Hollywood stars of the 1920s and 1930s, the maison also showed pale tones, conjuring up a chilly winter. Luxury in the collection was seen as "personal and private," apparent in a silk twill parka with chevron mink lining and crew necks in chinchilla.
Gucci's Giannini also kept luxury in mind with a python clutch and rings made out of "compressed powdered sapphire."
Taking a point of departure from 1980s 'New Wave' music, she brightened up fabric with dots, showed off blue suits and shimmering tops over tight black trousers.
For accessories, scarves were chunky -- bulkily wrapped around the neck at Burberry and Gianfranco Ferre, or hanging loosely at Roberto Cavalli. Armani's scarves had pockets.
(Editing by Paul Casciato)
© Thomson Reuters 2023 All rights reserved.