Murray trails Federer in fashion stakes
LONDON (Reuters) - Andy Murray may be snapping at Roger Federer's heels in the world rankings but the Briton still has a good deal to learn from the Swiss maestro when it comes to making an eye-catching entrance.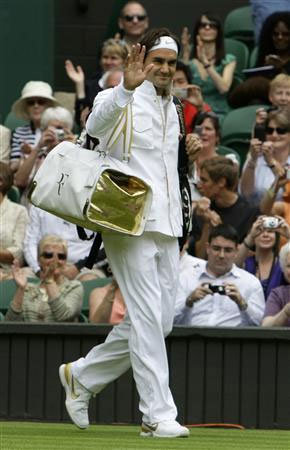 Photo: REUTERS/Stefan Wermuth
Federer was the talk of the opening day at Wimbledon on Monday 22 June with his military-style jacket and slacks which had the British press comparing him to anything from an extra on Miami Vice to a backing singer for a mediocre eighties tribute band.
Murray, seeking to end Britain's 73-year wait since Fred Perry won the men's singles title, proved a far more sheepish clothes horse for his grand entry on Tuesday 23 June.
The 22-year-old made his eagerly awaited arrival on Center Court for his first-round match against Robert Kendrick sporting the latest kit from the sponsor that bears Perry's name, a sleek tracksuit-style top with a white-collared T-shirt and shorts.
An awkward wave to all corners of the crowd, third-seed Murray then quickly removed his top and began to focus on his tricky opening encounter against the American.
LITTLE SURPRISE
Ever since the aloof Scot hit the public eye, he has been a shade uncomfortable in the limelight and it comes as little surprise that he looked slightly ill at ease on the plush green turf-cum-catwalk.
Murray struck you as the kind of schoolboy who ruffled his hair the moment he left the barbers, the roguish youth who untucked his shirt once out of sight of his home.
It is a sign of his meteoric rise in the game, though, that his reluctance to engage in the commercial aspects of the sport have clearly diminished.
However, Murray would gladly trade all the retro T-shirts in the world for the chance to emulate Perry and succeed him as a home champion of the world's biggest tournament on July 5.
(By Miles Evans. Editing by Ken Ferris)
© Thomson Reuters 2023 All rights reserved.