Music and weddings in Basra, for now
By Aref Mohammed
BASRA, Iraq (Reuters) - Last week Haider Lefta took the boards off his shop renting out musical instruments and session bands for parties, and dusted off a wooden "oud" -- the traditional Arabic lute central to much Iraqi music.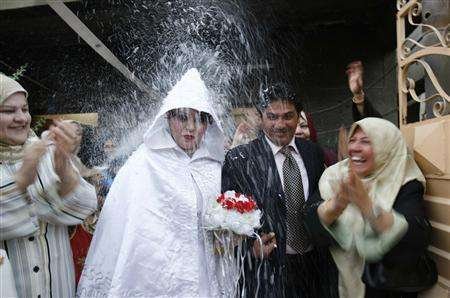 The 26-year-old could scarcely contain his joy. He abandoned the business three years ago after Shi'ite Islamist militiamen bombed his shop, then threatened to kill him: music and parties were against Islam, the black-masked gunmen had said.
"I'm so happy. Those extremists bombed my shop three times but now they are gone: I can get back to my work," he said.
After clashes with government troops, fighters claiming allegiance to Shi'ite cleric Moqtada al-Sadr have retreated from streets they once ruled in the southern oil hub of Basra.
Calm has returned to the streets. Shops and cafes have reopened as the pious young men who for years had been shutting them down -- declaring music "haram" (forbidden) and threatening to kill women for not wearing headscarfs -- have vanished.
Basra erupted into violence late in March when Shi'ite Prime Minister Nuri al-Maliki ordered a military crackdown on militias who controlled much of the city.
At first the offensive backfired, as government troops met fierce resistance from Sadr's Mehdi Army.
Some troops refused to fight or even defected. Hundreds of people were killed in the ensuing clashes in Basra and other southern Shi'ite towns.
But after Maliki allies met Sadr's aides in Iran, Sadr ordered his fighters off the streets. In the weeks since, government troops backed by U.S. and British special forces and air support wrested control of Basra.
"I used to run a women's fashion shop in the town centre but had to close after death threats," said Azhar Abdul-Razzaq, a 40-year-old saleswoman, turned housewife by a militia crackdown on boutiques. "Now I'm thinking of reopening."
Tensions could mount again, especially in the run-up to provincial elections in October when oil-rich Basra is likely to be a key battleground.
RISE OF THE SADRISTS
The rise of the Sadrist movement shortly after the 2003 U.S. invasion surprised the American military and many Iraqis.
Blending religious fervor, anti-Americanism and a populist message, Sadr appeals to millions of dispossessed Shi'ites who have felt abandoned by successive Iraqi administrations.
"I defend the Sadr movement because they are nationalists who want to free Iraq from the occupier," said Abu Firas, a Sadr supporter. "Who else has any interest in helping the poor?"
The movement is popular in the Shi'ite south and in the Sadr City slum in eastern Baghdad, named after Moqtada's father, a senior cleric killed under Saddam Hussein.
On Friday, Sadr backed away from a confrontation with the government, asking his followers not to battle with its troops and to focus their anger on the American "occupiers."
Many who approve of Sadr's anti-American message and his organization's charitable works have baulked at the puritanical brand of Islam that some who claim allegiance to the cleric seek to impose.
A message scrawled in huge red letters on a wall in central Basra warns any woman who wears make-up or abandons the Islamic hijab (headscarf) of "severe punishment."
Militiamen closed down not just brothels and nightclubs but also shops, university departments and beauty parlors -- and many Basrans say they've had enough.
"EVERYONE DANCED"
Iraqis love parties but there were few to be seen in Basra's dusty streets in recent years -- traditional weddings were held in private for fear of militia attacks.
That is starting to change.
"My son is lucky: his wedding came after the military operations against the Mehdi Army and we were able to hold a party," said Kadhim Mughamis, 49, as he received guests at his house in Maqal, east Basra, once a stronghold of the militia.
Women who covered themselves are now more confident.
Nahla Abdul-Latif, a journalist, has started wearing whatever she wants -- usually a shirt and skirt with no headscarf -- just as she did before militiamen seized control of her neighborhood.
"I had to put on the hijab on because of them but now I feel more at ease taking it off. I hope it lasts."
University student Hassan picnicked with his friends on the lawn of his college for the first time in years, free from the armed gangs who used to harass them.
Even some people who once supported the Mehdi Army were not sad to see them go, saying too many members had descended into gangsterism and organized crime.
"The situation turned out of control. They were penetrated by gangs. Every Mehdi Army fighter thought he was a commander who can do whatever he wants," said Abu Fatima, a bricklayer.
Surrounded by hanging instruments -- drums of various sizes, flutes, an electric piano, an oud -- Lefta ordered two workers to tidy up his dimly lit store.
"I am going to refuse to close it again. It's my right and they won't stop me," he said, hours after unknown gunmen had tossed a grenade at the shop in a fresh bid to intimidate him. He and his musicians have celebrated the militias' retreat.
"We stopped a wedding convoy in the street and performed music," he said. "Everyone got out and danced."
(Writing by Tim Cocks and Khalid al-Ansary; Editing by Sara Ledwith)
© Thomson Reuters 2022 All rights reserved.