New luxury brand sponsors Addicted To Fashion event, Miami
BOCA RATON, Fla.--(Business Wire)--Starla Sandals, a new line of handmade, embellished luxury sandals, announced Tuesday their participation in the Addicted to Fashion events at Nikki Beach Miami.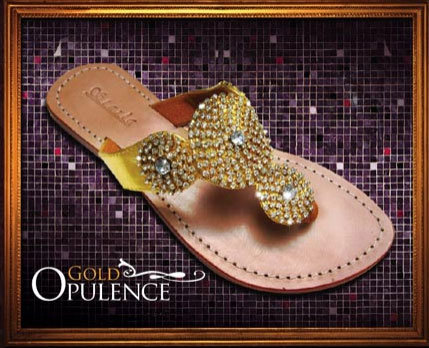 www.starlasandals.com
Starla Sandals has been named the official shoe sponsor. Nikki Beach is a global luxury lifestyle entertainment group that is holding a series of events at their Miami Beach location in conjunction with Miami Swim Week, from July 16th to 18th, 2010.
Starla Sandals will be featured in fashion shows, sold in a boutique, and spotlighted poolside throughout the weekend.
Eleven of the world`s most renowned swimwear designers, including Agua Bendita, Keva J. from the Kardashians, AZ Araujo, and Azure Swim will showcase their newest creations on runways set against a stunning backdrop of sun, sand, and sensuality.
"Starla is proud to be the Official Shoe Sponsor of the Addicted to Fashion events at Nikki Beach. This is the perfect venue for introducing my new line of luxury sandals to Miami Beach along with the fashion and swimwear community," commented Starla Sandals designer and founder, Michele Paredes. "My brand is inspired by the sexy and glamorous Southern Florida lifestyle, which is epitomized by Nikki Beach and Miami Swim Week."
Starla Sandals are handmade with high-quality leather and are embellished with Austrian and Czech stones and crystals. Prices range from $65.00 to $120.00, and are available on www.starlasandals.com.
For more information about the weekend`s events, visit: www.nikkibeach.com
Starla Sandals
Designer Michele Paredes combined her passions for jewelry and footwear, creating Starla Sandals, a luxury line of handcrafted, jeweled footwear in 2010.
Starla, which connotates sparkle and shimmer, has an esthetic that is rooted in the casually elegant lifestyle of South Florida. Made with the finest leathers, stones, and crystals, new styles and collections are launched seasonally. For more information visit: www.starlasandals.com
© Thomson Reuters 2023 All rights reserved.