Nimble Aussie retailers leave old guard flat footed
MELBOURNE - Some of Australia's largest retailers could go the way of the dinosaur if they fail to adapt to changing consumer habits as more nimble niche players that are driving innovation snatch sales and market share.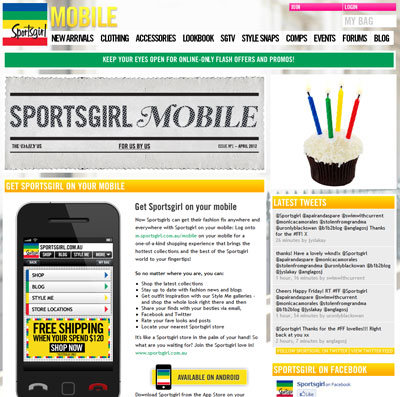 Website of clothing chain Sportsgirl, which offers a new "mirror" app that allows customers to share photos of themselves trying on outfits
The major stores, five to 10 years behind their U.S. peers in online strategy, have been betting on a retail recovery for four years since the global financial crisis, but have slowly come to the realisation that consumers do not plan to return to their former free-spending ways.
Upmarket department store chain David Jones emerges as the worst performer, based on analyst revisions among 54 companies in the country's consumer discretionary sector, tracked by at least three analysts, data from Thomson Reuters StarMine shows.
Of the 15 analysts tracking the stock, 11 have strong sell or sell recommendations, three give it a hold and one has a buy rating, after the retailer forecast a slump in full-year earnings of up to 40 percent.
"The department stores are seriously challenged, the full-service model is proving not to be much of an advantage and they have a very large cost base with rent and staff," said Pengana Capital portfolio manager Ed Prendergast, who helps to manage A$1.2 billion ($1.25 billion) and does not own David Jones shares.
Official retail trade data for February show that sales rose on average just 0.1 percent per month for the last four months, while the household savings rate is at a 24-year high.
WINNING THE ONLINE WARS
Shares in David Jones have dropped 4.6 percent this year to a three-year low, while shares of luxury goods retailer OrotonGroup Ltd has jumped 9.6 percent as shoppers look for exclusive brands that they cannot buy more cheaply overseas.
Oroton, which only sells its bags, wallets and other goods through its own stores and online, has six analyst ratings of buy or strong buy, and three on hold, and trades at a forward price/earnings ratio of 13, above a sector average of 10.4.
Oroton sells more through its web site than any one store, and early expansion online has been a key success for many smaller niche players such as privately owned clothing chain Sportsgirl, which offers a new "mirror" app that allows customers to share photos of themselves trying on outfits.
Other retailers are looking offshore for growth to offset the structural slowdown in domestic sales.
The owner of the successful Smiggle chain of stationery stores, Premier Investments, is looking to Asia to take advantage of faster growth. Smiggle sales jumped 18 percent in the six months to Jan. 28, compared with a decline of 5.4 percent for Premier as a whole including clothing brands Dotti and JayJays.
Research by Commonwealth Bank shows online clothing sales are growing faster than total online spending with credit card data showing "a rapid conversion" of clothing sales to the online channel.
That spells the greatest risk for David Jones and its larger competitor, Myer Holdings.
David Jones has acknowledged it is in a fight to survive as it overhauls its stores and web site.
"If we hadn't taken this action, it could have ended up being death by a thousand lashes," chief executive Paul Zahra said.
But critics say plans to expand its online offering tenfold from just 9,000 items currently may come too late.
"They are behind the eight ball now. They've got no option but to embrace online because if they don't, they won't be around," said F.W. Holst research manager David Spry.
© Thomson Reuters 2023 All rights reserved.