NY exhibit "Models as Muse" looks at beauty ideals
By Ellen Wulfhorst
NEW YORK (Reuters) - The new "Models as Muse" exhibit at the Metropolitan Museum of Art celebrates some of the world's most beautiful women yet it shows how ideals of beauty have evolved to include the rest of women as well, its curator said on Monday 4 May.


Cladia Schiffer during the inauguration gala on 4 May
Opening this week at the museum's Costume Institute, the exhibit traces high fashion and its models from post-World War Two haute couture to grunge and minimalism of the 1990s, with iconic photographs, magazine covers, advertisements, clothes, music and film clips to illustrate each distinctive era.
The show explores the power of clothing, fashion photography and models to project images of beauty over the years, its curators said at a preview for the media.
Its timeline begins in the golden age of sophisticated haute couture, which gave way to the youth-oriented 1960s, followed by the glamorous supermodel era that ended in grunge, the antithesis of glamour.
That last shift shattered earlier conceptions of beauty, leaving today's ideals more diverse and inclusive than ever before, said Kohle Yohannan, guest co-curator.
"In the end we're reassembling the pieces, like a post-modern jigsaw puzzle," he said, adding: "Women are more included in the visual culture today, all races, all ages.
"I think this show will encourage women to take a bow, each and every type that they are, each and every race, each and every size," he said.
Yohannan, an author and cultural historian, curated the show with Harold Koda, curator in charge of The Costume Institute.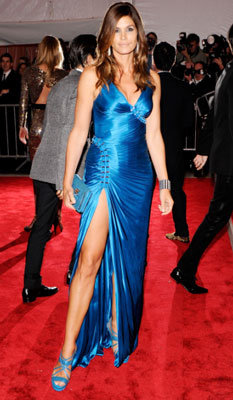 Cindy Crawford at the inauguration gala on 4 May
While fashionistas will likely savor every nuance, the fashion illiterate will recognize the aristocratic Dorian Leigh, Twiggy, Peggy Moffitt in a topless bathing suit by Rudi Gernreich, the athletic Cheryl Tiegs and Christie Brinkley, supermodels Linda Evangelista, Naomi Campbell and Claudia Schiffer, waifish Kate Moss and lithe Gisele Bundchen.
Each era of fashion illustrates the social changes that were occurring at the time and helped to shape the idealized types of feminine beauty, Yohannan said.
"It shows every bit of a map of social history as much as a style history," he said.
The exhibit, "Models as Muse: Embodying Fashion," is on view from May 6 through August 9, 2009.
(Editing by Michelle Nichols and Jackie Frank)
© Thomson Reuters 2023 All rights reserved.