Online Christmas sales seen up 16 percent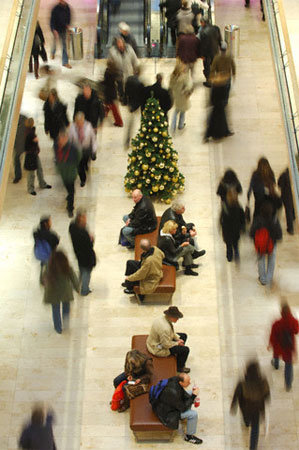 Customers shop in Europa Passage, Hamburg. Photo : Corbis
LONDON | Tue Oct 19, 2010 - Britons will spend 6.4 billion pounds online this Christmas, up 16 percent on last year and bucking sluggish in-store sales as shoppers focus on convenience and price, a study said on Tuesday.
Online retail industry group IMRG and consultants Capgemini said internet sales leapt 24 percent in September, boosted by shoppers buying early for Christmas, and raised their forecast for 2010 online sales growth to 16 percent from 13 percent.
"Concerns over the impending government spending cuts, VAT (sales tax) increase and job security, together with falling average households' disposable income, are all contributing to driving this positive e-retail performance as consumers turn to online retailers to secure the best deals," IMRG director of information Tina Spooner said.
While the rise in online spending was coming at the expense of in-store sales, online sales at store groups were growing at twice the pace of internet-only retailers, the study said.
Sales of gifts leapt 32 percent in September year-on-year, signalling shoppers were trying to spread the cost of Christmas.
(Reporting by Mark Potter; Editing by Dan Lalor)
© Thomson Reuters 2022 All rights reserved.