Organic, recycled 'recessionista chic' hits Berlin
BERLIN, July 3, 2009 (AFP) - Goodbye "fashionista" brands, where neither the price nor the planet counts. The recession has made recycled "recessionista chic" a hit at Berlin Fashion Week -- some of it even organic and free trade.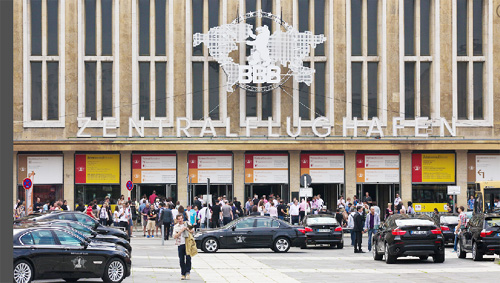 Bread & Butter in Berlin
"When I started six years ago, no one wanted to hear about 'rubbish textiles'," Liza Arico -- who describes herself as Franco-Argentine-Brazilian -- creator of the Customisee par (Customised by) label, told AFP.
Her creations include an old handbag reincarnated as a must-have accessory embroidered with random bric-a-brac rescued from oblivion, like old metro tickets made to look at first glance like a chic label.
Other creations made to save your money and soothe your conscience include hats and Twiggy-esque, flower power dresses by Frenchwoman Isabelle Teste made from plastic bags.
Men's shirts -- perhaps worn by the investment bankers that caused the financial crisis -- are also getting a new lease of life as children's clothes stitched by the aptly named German label Redesign.
The firm also transforms old tablecloths into skirts.
Down in the imposing, 19th century, former imperial post office of the grotty-but-hip Neukoelln district of the German capital, items like this can be beheld until Saturday 4 July when Berlin Fashion Week wraps up.
Inside can be found Thekey.to, a new international trade fair for "green fashion and sustainable lifestyle" showcasing what the blurb calls a "selection of high quality, innovative fashion brands."
It also promises (in its best English) a "vibrant mix of street styles and elegance, sustainable innovations and green trends, the newest green developments and most forward concepts."
On view are "visionary and future minded brands" from "pioneers in sustainability" that constitute "explorations in the ways in which future fashion can develop."
They take their cue from the famous scene from "Gone With The Wind" when Scarlett O'Hara, frankly not giving a damn, making a dress from the curtains in her stately southern home, Tara.
The heroine was ahead of her time, a veritable "recessionista" -- a term coined in the United States blending "recession" and "fashionista" to describe a fashion victim forced, crise oblige, to don second hand garments.
In these tough times, they are a growing client base.
This is witnessed not only by the amount of firms showcasing down at Thekey.to, but also across town in the luxury Adlon hotel -- where Michael Jackson once dangled a baby out of the window -- at the Green Showroom.
There, a plethora of upmarket "green" clothes, accessories and cosmetics were vying for the euros, dollars and yen of this new type of noughties buyer.
And in the same "recessionista" spirit, Swedish-born Berliner Cecilia Palmer, whose Pamoyo label uses only recycled clothes, has organised for Saturday 4 July afternoon an event she has baptised "Fashion Reloaded."
There, people are invited to abandon the throw-away culture, bring along their old jackets, skirts, hats, dresses, shoes and scarves and learn how to resurrect them with the help of workshops.
"Encouraging people to do things themselves is fitting when there is a crisis going on," said Palmer, who describes her motivation as being "as ecological as it is social."
Both aspects were strong in Berlin, as witnessed by the stands at Thekey.to displaying organic cotton, hemp and other materials guaranteed to be pesticide and chemical-free.
Plus it's all fair trade and not from a sweatshop.
"Clothes are going to go the way of food, with the same worries about health and also ethics," believes Melchior Moss, co-creator with his sister of the Berlin-based Slowmo label.
"Organic is not a fashion, it's a conviction," he says.
Liza Arico is not so sure: "Today, it's trendy to buy something second hand or recycled. But there is a lot of fashion in there but not always lots of morality."by Aurelia End
Copyright © 2023 AFP. All rights reserved. All information displayed in this section (dispatches, photographs, logos) are protected by intellectual property rights owned by Agence France-Presse. As a consequence you may not copy, reproduce, modify, transmit, publish, display or in any way commercially exploit any of the contents of this section without the prior written consent of Agence France-Presses.