Outrage propelled Galliano's rise and fall
Jun 23 - John Galliano brought flair, vision and a touch of outrage to Dior when he joined the Parisian brand over a decade ago, keeping it in the spotlight as some other legacy fashion houses faded into quaintness.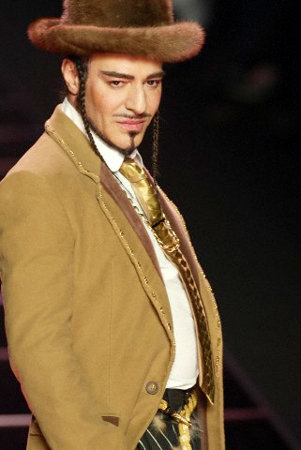 Designer John Galliano on the runway after his fall 2004 show (Photo: Corbis)
But it was outrage off the catwalk that has destroyed his career and left his future in doubt.
In court Wednesday on charges of anti-Semitic behavior, after a series of outbursts to strangers that prompted Dior to fire him in March as its creative director, Galliano said an addiction to drugs and drinks had left him out of control.
The British designer's abrupt departure from Dior, three days before he was to present its fall-winter women's wear collection, marked the end of one of the longest-running and most successful collaborations in the world of high fashion.
His show for Christian Dior, owned by luxury group LVMH, went ahead without him, winning a standing ovation from fashion editors, store buyers, supermodels and celebrities.
Yet the sorry saga has wrecked one of the most head-turning design careers of recent decades, with Galliano spending recent weeks undergoing treatment in the United States for addiction to alcohol, valium and sleeping pills.
"I have a triple addiction," Galliano, wearing long sandy hair and trademark razor-thin mustache, told the court on Wednesday. "Alcohol, sleeping pills and Valium."
Before Dior, Galliano was already making a name with his flamboyant style, dressing stars like Kylie Minogue and Madonna.
In the late 1990s he chopped off his dreadlocks for a job interview with Dior, and over the following years cemented his reputation as one of the most influential living designers alongside Karl Lagerfeld, Tom Ford and Jean-Paul Gaultier.
His collections for Dior were uproarious jaunts that often drew on history, interpreting centuries of fashion trends in a single show and bringing the brand newfound popularity among the fashionistas of Latin America and the Far East.
Born in 1960 in Gibraltar, Galliano moved at age six to London where he later attended Central Saint Martin's College of Art and Design, graduating with first class honors. His first show, "Les Incroyables," was inspired by the French Revolution.
BRITON TAKES PARIS BY STORM
With his sense of visual impact, Galliano soon reaped the critical accolades, taking home the award for British Designer of the Year four times between 1987 and 1997 -- the last of which he shared with the late designer Alexander McQueen.
Obsessed with theater and celebrities, Galliano designed Madonna's costumes in the 1996 film "Evita" and was cited as the model for the fictional fashion guru in the comedy "Zoolander."
In the early 1990s he moved to Paris, where he earned the patronage of fashion gurus and high society figures who gave him both the visibility and financial backing to compete on the same plane as some of the best-known names in the business.
His first show under his own name, reportedly prepared in two weeks, established his name in the fashion capital and set him up to become Givenchy's first British designer in 1995.
Two years later, he moved to Dior.
Although he presided over a highly successful period at Dior, industry insiders say his shaky personal life began to overshadow his public persona following the suicide of one of his closest advisers two years ago.
Media reports of unruly or capricious behavior grew more frequent until his alleged outburst and the online circulation of a video clip in March that showed him slurring anti-Semitic insults at people in a bar.
The controversy changed his image overnight from glamorous star designer to lonely and troubled drinker, and brought a hail of condemnation. U.S. Oscar-winning actress Natalie Portman, who has a deal to promote a Dior perfume, issued a statement saying she wanted nothing more to do with him.
Some friends in the fashion world have been less harsh.
"What happened to you Thursday night at this nice Parisian cafe, La Perle, fighting with this couple?" asked Olivier Zahm, editor of online fashion magazine Purple Diary, in a letter entitled "John, I Love You" posted at the time.
"I know that you are not at all a racist -- whatever you said, drunk or not, to them!"
By Nick Vinocur
(Editing by Catherine Bremer and Paul Casciato)
© Thomson Reuters 2023 All rights reserved.