Pakistan textile firms struggle to survive
FAISALABAD, Pakistan (Reuters) - Pakistani textile makers are holding on for dear life through a perfect storm of shrinking global demand, crippling power shortages and the blow to buyers' interest dealt by terrorist attacks.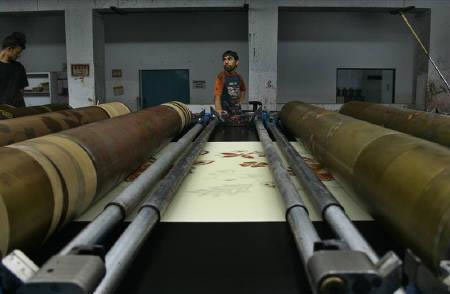 Pakistanis work in a textile factory in Faisalabad on August 8, 2009 - Photo: REUTERS/Fayyaz Hussain
The source of over half the country's exports and about 40 percent of manufacturing jobs, their fate will be vitally important to the country's social and political stability.
In Faisalabad, the sector's traditional heartland located in the central province of Punjab, the mood is decidedly downbeat.
Tens of thousands of looms have been sent literally to scrap heaps over the past several months, and an estimated 200,000 people have lost their jobs in the city's textile sector alone over the past year, industry officials say.
"We're already dead," said Rehan Naseem Bharara, vice chairman of the Pakistan Textile Exporters Association.
While that might be an exaggeration, the reasons for Bharara's despair are evident during an interview in his office.
He and his guests sweated in the dark as the electricity cut out for an hour, and his arrival was delayed by nearly as long because a shoot-out in which two people died had blocked traffic.
The most crippling challenge loom operators and garment makers have had to face since the end of last year is the phenomenon of "load-shedding", as electricity grid companies regularly cut service because of an acute lack of generating capacity.
Faced with unscheduled power cuts for 12, 16, even 18 hours a day in much of June and July, many smaller mills had no other choice but to close shop, said Muhammad Akram Ghouri, vice chairman of the All Pakistan Cotton Power Looms Association.
The situation has improved significantly this month, Ghouri said, as industry worked out a deal with the grid companies to limit power cuts for factories to about four hours a day, according to a fixed schedule.
"At least now we can work," he said, the deafening churning of his dozens of antiquated looms shaking the ground beneath his small office, off a dusty Faisalabad alleyway.
DUTY-FREE ACCESS
But the return of some semblance of a reliable power supply hardly means the sector can expect a return anytime soon to the heady days of 2001 to 2005, when textile exports quickly went from around $6 billion a year to over $10 billion.
Exports have stagnated since then as Western buyers in an already weak demand environment have increasingly shunned Pakistan, with its spate of militant attacks and kidnappings, particularly since the end of global textile quotas in 2005.
Overall textile exports, which range from relatively cheap yarn and woven cloth to high-quality towels and garments made for Western brands, stood at $9.6 billion in the fiscal year that ended on June 30, down nearly 10 percent from a year earlier.
With Pakistani prices already driven up by power cuts, which force bigger operators to run their own gas-fired power units, security concerns often tip the balance in favour of competitors like India, China and Bangladesh, Bharara said.
He blamed the policies of Pakistan's allies in the war on Taliban militancy as much as those of his own government.
Specifically, he called on the United States and European Union to grant duty-free status to Pakistani textile exports and work towards free trade agreements with the country, something the government has long called for.
He rejected a U.S. proposal for so-called Reconstruction Opportunity Zones (ROZs) in the northwest of the country bordering Afghanistan, offering duty-free treatment for textile and other exports from those specific areas in an effort to create jobs and thereby combat al-Qaeda and Taliban recruitment.
"Is it not a joke? There is a war in that area. How can you put your industry there?" he said.
"This is just giving us a lollipop. This is not a solution. The solution is only that they give full duty-free access, the Europeans and Americans, for whom we were fighting the war."
POTENTIAL MILITANT RECRUITS?
Punjab province, though on the other side of the country from the tribal areas that are the stronghold of the Taliban, is known itself to be a breeding ground for militant groups.
A group of men sitting on the ground at one of Faisalabad's main squares waiting for odd jobs served as a poignant reminder of the potential for the frustration of unemployment to bubble over and turn men into potential Taliban or al-Qaeda recruits.
"Our government and our leaders are responsible for our miseries, as it's because of them that I've lost my job," said Mohammad Afzal Yaqoob, 31, visibly dejected after being laid off from a textile mill four months ago.
Yaqoob now earns 150 rupees ($1.80) a day as a day labourer, when he finds work. His textile job paid 6,000 rupees a month.
To be sure, not everyone is being hit quite so hard.
At the top of the pyramid are firms such as Chenab Ltd, which makes shirts and bedding for Western brands from Polo Ralph Lauren to IKEA and has its own domestic label.
With its own gas-fired power plant, the firm has continued to operate through the outages that have devastated others, chairman Mian Mohammad Latif said from a leather chair in his posh office.
Still, the security situation has made it tough to convince overseas customers it can deliver orders reliably, and perennial shortages of gas in winter mean even it sometimes has to shut down, Latif said.
The firm is running at just 70 percent capacity and employs only 10,000 workers now, down by 4,000 from its peak, but all told, Latif considers himself fortunate given the circumstances.
"The small processors and exporters, they are suffering more. We are facing problems, but different problems," he said. "From a business point of view, I am positive."
(By Jason Subler. Additional reporting by Augustine Anthony)
© Thomson Reuters 2023 All rights reserved.