Paris crime scene: trailing fake undies
PARIS, Sept 10, 2008 (AFP) - With tens of thousands of style moguls in the world's fashion capital this month checking out and stocking up on the latest trends, counterfeiters and crime-busters are having a field day.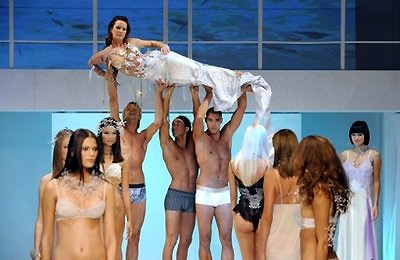 Models present underwear during "Mode City", a fair dedicated to beachwear and summer lingerie, on September 6, in Paris
Photo : Stephane de Sakutin/AFP
From jewellery to apparel to home accessories and goods, the city's twice-yearly trend and trade shows held on the eve of Paris Fashion Week attract more than 100,000 buyers and designers, both domestic and foreign.
Photographs are banned and access severely restricted to stands at the half dozen events taking place in town, yet at this week's lingerie show, a top lace-maker from Austria was angry beyond belief.
On visiting the Mode City trends centre, a not-to-be-missed focal point for makers of underwear and swimwear looking for next season's colours, fabrics and cuts, Markus Hammerle stumbled on one of his own exclusive laces -- but this one a forgery being exhibited by an Italian firm as its very own design.
"All our designs are offered on an exclusive basis to our clients," he said. "If they see a copy elsewhere they might conclude we were selling them counterfeits, that we were cheats. This could damage our reputation."
Long blamed on Asia, and long believed to be restricted to top-end luxury brands, counterfeiting clothes is widespread across Europe and as often as not practised by reputable high street brands, according to specialist lawyer Corinne Champagner Katz.
As head of a prestigious century-old embroidery firm on Lake Constance that sells to established lingerie brands such as Triumph or Wacoal, Hammerle took his case to her and within 24 hours had secured a signed pledge from the Italian counterfeiter to withdraw the lace from sale.
-- 'It's the piece of lace that will sell a bra' --
"We invest a lot of money in design and research," Hammerle said in an interview. "This is a huge problem. When designers are faced by counterfeiters they must take action as we did. You musn't let forgers feel they can get away with it."
Silly as it might sound, the little bits of lace trimming on underwear, not to mention wedding-gowns, are key to sales.
"It's that piece of lace that will sell a bra," said Champagner Katz, who for several years has been on hand to help lingerie-maker protect their rights during the Paris shows.
"Lace is a prime victim of forgery," she added.
Industrial espionnage and forgery were age-old problems, she said, "but there are more and more copies being made in every sector of the fashion field. And with the modernisation of communication the copies are quick."
At the exclusive fabrics fair, Premiere Vision, where stands are walled in high enough to conceal the samples, one ressourceful counterfeiter used a watch-camera that sent off the shots directly via the Internet.
"Whenever you come up with a really exceptional design you can be sure someone else will copy it," said Christian Keusseyan and Bernard Evans, directors of French swimsuit and lingerie firm Pain de Sucre.
"If it's a tiny boutique or a small company we don't react because fashion after all is always inspired by someone else's design.
"But when it's a well-known brand with a turnover 10 times as big as ours that exports across the world, it's unacceptable. It's like being robbed," said Keusseyan from inside his stand, where staff admit visitors only after checking their credentials.
The pair, whose company produces 200,000 swimsuits a year, have already won lawsuits for copyright breach against Spain's Manuel Canovas, Italy's Argento Vivo and known brands from France, Germany and Australia. A complaint is currently underway for one of the top US labels, which cannot be named with the case still pending.
"It can take us three to four years to get a design just right and then that model will sell through several seasons in different fabrics," said Evans.
"I mean no one would copy the Coca-Cola or Evian bottle, would they?"by Claire Rosemberg
Copyright © 2023 AFP. All rights reserved. All information displayed in this section (dispatches, photographs, logos) are protected by intellectual property rights owned by Agence France-Presse. As a consequence you may not copy, reproduce, modify, transmit, publish, display or in any way commercially exploit any of the contents of this section without the prior written consent of Agence France-Presses.