Paris haute couture strips down in crisis
By Sophie Hardach
PARIS (Reuters) - The Paris haute couture shows opened with pared-down collections and sober comments Monday 6 July, as the financial woes of designer Christian Lacroix forced even the world's most extravagant fashion scene to face economic reality.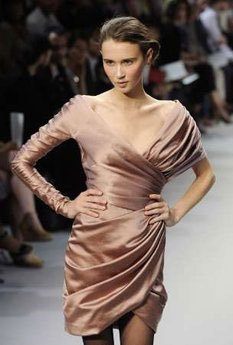 A model presents a creation by French designer Christophe Josse as part of his Autumn/Winter 2009-2010 Haute Couture fashion show in Paris July 6, 2009 - Photo: REUTERS/Gonzalo Fuentes
On the catwalks, sequined gowns with billowing trains spoke of luxury, but backstage the talk was of cash-strapped Americans and crisis-hit Lacroix, whose fashion house is under creditor protection and struggling to find a buyer.
"The collections of the 1990s, the 2000s, which were all about spectacle -- that's over," couturier Stephane Rolland told Reuters before his show of soft white, grey and black draped dresses and sharply tailored jackets with pleated collars.
"I think couturiers have understood that haute couture has to be about sellable, commercial pieces, exceptional ones of course with a true Parisian savoir-faire," said Rolland in a changing room crammed with photographers, stylists and half-naked models.
Even British designer John Galliano, who in January defied the economic crisis with opulent silk gowns, showed a simpler yet playful collection featuring tulle skirts with corsets and lace dresses with garter belts for Dior.
U.S. socialites, Asian tycoons and Middle Eastern royals in search of wedding dresses have kept a small number of haute couture houses and their Parisian workshops afloat, and at the last round of shows that fan base still turned out in force.
But the fate of Lacroix, whose fairytale displays of embroidered silks and bubble dresses used to be one of the highlights of the Paris shows, cast a shadow over this season.
LACROIX ON THE BRINK
Lacroix was placed under creditor protection for a period of six months at the beginning of June, after it was hit hard by the global downturn in consumer spending.
It will put on a mini-show with some 20 models and 200 guests Tuesday 7 July, a spokeswoman said.
"We strongly hope that this won't be the last show, it all depends on whether our Maison will be bought out or not. Which should be decided between now and the end of July," she said in an e-mail.
Bought by the Falic family, owner of U.S. group Duty Free Americas, in 2005, Lacroix placed an untimely bet on luxury ready-to-wear and was hurt by a drop in U.S. sales.
At Dior, Chief Executive Sydney Toledano told journalists the key to survival was strong cooperation between designers and managers -- adding that in any case, he expected very few haute couture houses to be in business in a decade's time.
While big labels such as Dior or Giorgio Armani use haute couture mainly as a glamorous marketing tool to sell more profitable perfumes and accessories, smaller brands need to be increasingly resourceful.
Rolland's floor-length gowns seemed designed with the Saudi wedding market in mind, and he has also stepped into the high-margin accessories sector with a new handbag collection.
Others lamented the ascent of commercialism and said Lacroix' problems signaled the end of a more creative era.
"In some way this means there isn't any space left for artistic couturiers. All that will remain is haute couture to sell perfumes, cosmetics, shoes and bags," said couturier Franck Sorbier. He drew on his stocks of ribbons and fabrics to save money when he put together his latest collection.
(Editing by Tim Pearce)
(Additional reporting by Mathilde Gardin, Elizabeth Pineau and Astrid Wendlandt)
© Thomson Reuters 2023 All rights reserved.