Petra sees diamond prices levelling after strong run
May 6 - Petra Diamonds, the largest diamond producer on London's junior AIM market, expects diamond prices to level off over the next few months after a more than year-long resurgence in prices for the precious gems.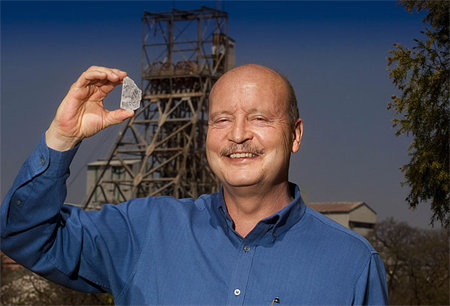 Johan Dippenaar, Petra Diamonds CEO, holding a 507 carat white diamond
After people spent less on luxury purchases during the economic downturn, diamonds have regained their lustre, with a steady improvement in the United States, the world's biggest market, and surging demand in China and India, Asia's biggest and third-biggest economies.
"Towards the end of 2008, with the crash, we saw prices decline by as much as 60 percent. I'd say we're now back to prices we saw in 2008 ... and even probably 5-10 percent above those prices," Chief Executive Johan Dippenaar told Reuters.
"But I think some (price) consolidation is probably on the cards for the next few months."
Petra, which is based in the Channel Islands, is on track to produce about 1.3 million carats this financial year, up 12 percent from 2010.
"Our production profile for the next financial year can be -- depending on the timing of the closing of the (Finsch) transaction -- anywhere in the region of 2 to 2.5 million carats," said Dippenaar, who was the head of Crown Diamonds when it merged with Petra in 2005.
In January, Petra said it was buying the Finsch diamond mine -- South Africa's second-largest by output -- from De Beers.
It expects the acquisition to boost annual production to around 4 million carats by 2014 and to more than 5 million carats by 2019.
Dippenaar said he was comfortable with consensus estimates for revenue of about $200 million and above for this year. Petra expects the Finsch acquisition to boost its turnover to about $400 million by 2012.
Over the past few years, Petra has acquired five mines from De Beers, part of mining group Anglo American.
The company now has eight producing mines in South Africa and Tanzania with a total diamond resource of 309 million carats, the biggest outside De Beers, the world's largest diamond producer, and Russian state-owned diamond miner Alrosa, according to Petra.
Dippenaar, a squash player and cricket fan, said Petra is currently not looking for any acquisitions and is focused on expanding its mines.

(Reporting by Anirban Sen and Anne Pallivathuckal in Bangalore, Editing by Ian Geoghegan)
© Thomson Reuters 2023 All rights reserved.