Pigs' feet and turtle blood fuel Japan beauty trend
By Sophie Hardach and Yoko Kubota
TOKYO (Reuters Life!) - Jelly drinks, pigs' trotters, and now turtle meat and blood: a beauty craze over food rich in collagen, considered to be good for the skin, has added some unusual items to Japanese menus.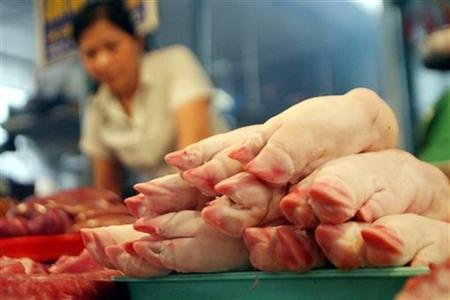 Japan's collagen supplements and cosmetics have already caught on overseas, and a Japanese pigs' feet restaurant has opened in New York.
Other products catering to the new passion for cartilage in one of the world's biggest skincare markets may be harder to export.
"Suppon", or soft-shell turtle, is a traditional delicacy here, but used to be served mainly to men -- it is said to boost sexual performance. Recently, female diners have taken over.
"There is a lot of collagen in suppon meals. All our female customers that come to eat collagen say their skins are doing much better the next morning, when they put on make-up," Sosuke Miyagawa, the owner of suppon restaurant Hanabishi, told Reuters.
He added that now about 70 percent of the customers who order suppon meals are females, many of them in their 30s, and demand is on the rise.
His own beauty tip for a perfect complexion: "We cut the neck of the suppon and squeeze out the dripping blood, then mix that with Japanese sake or plum wine. This gives an instantaneous effect."
Cosmetic surgeons around the world inject collagen to plump up lips, and using gelatinous foods as a beauty boost in itself is not new. In the United States and Europe, many women eat gelatin to strengthen their hair and nails.
But in Japan, beauty trends tend to erupt with a particular force and often become all-encompassing, as shown by the current omnipresence of collagen-rich products.
CHEWY TURTLE
Drinks and yoghurts with added collagen line the shelves of Tokyo convenience stores. Handwritten little signs on menus and even in office kitchens point to teas, drinks or dishes that are rich in collagen and allegedly plump up the skin, smooth wrinkles, and have an overall anti-aging effect.
Experts are divided on the benefits of these products, but some consumers do believe in their beautifying impact.
Kyoko Shinonaga, who works in the mineral water business, booked a turtle dinner at Hanabashi to celebrate "Girls' Day", a Japanese festival, with female friends on Monday.
She said she had recently started to eat pigs' feet because of their collagen content and had heard some celebrities were eating turtle meat to maintain their beauty.
Shinonaga's own decision to try turtle was "50 percent for fun and 50 percent serious".
"The taste (especially the soup) is great but the texture of the legs and thighs is strange ... no effects have been confirmed ... but I found warmth of the body and energy today," she said in an e-mail.
Japanese women enjoy a global reputation for porcelain skin and classic beauty, and it is not surprising that some entrepreneurs have tried to spread the collagen fad abroad.
Hakata Tonton, a Japanese restaurant that serves mainly pigs' feet, opened late last year in New York.
New York restaurant reviewers, however, have yet to be convinced by "healthy collagen salad" and dumplings garnished with pigs' nails.
"Offal dilettantes, the curious but skeptical and those without a tested track record of enjoying foot eating should eschew the nine-course beginner's tasting menu," wrote reviewer Peter Meehan in the New York Times in January.
(Editing by Jerry Norton)
© Thomson Reuters 2023 All rights reserved.